Several related stories. First, KTHUG:
Yet in the 1950s incomes in the top bracket faced a marginal tax rate of 91, that's right, 91 percent, while taxes on corporate profits were twice as large, relative to national income, as in recent years. The best estimates suggest that circa 1960 the top 0.01 percent of Americans paid an effective federal tax rate of more than 70 percent, twice what they pay today.

Nor were high taxes the only burden wealthy businessmen had to bear. They also faced a labor force with a degree of bargaining power hard to imagine today. In 1955 roughly a third of American workers were union members. In the biggest companies, management and labor bargained as equals, so much so that it was common to talk about corporations serving an array of "stakeholders" as opposed to merely serving stockholders.

Squeezed between high taxes and empowered workers, executives were relatively impoverished by the standards of either earlier or later generations. In 1955 Fortune magazine published an essay, "How top executives live," which emphasized how modest their lifestyles had become compared with days of yore. The vast mansions, armies of servants, and huge yachts of the 1920s were no more; by 1955 the typical executive, Fortune claimed, lived in a smallish suburban house, relied on part-time help and skippered his own relatively small boat.

The data confirm Fortune's impressions. Between the 1920s and the 1950s real incomes for the richest Americans fell sharply, not just compared with the middle class but in absolute terms. According to estimates by the economists Thomas Piketty and Emmanuel Saez, in 1955 the real incomes of the top 0.01 percent of Americans were less than half what they had been in the late 1920s, and their share of total income was down by three-quarters.

Today, of course, the mansions, armies of servants and yachts are back, bigger than ever — and any hint of policies that might crimp plutocrats' style is met with cries of "socialism." Indeed, the whole Romney campaign was based on the premise that President Obama's threat to modestly raise taxes on top incomes, plus his temerity in suggesting that some bankers had behaved badly, were crippling the economy. Surely, then, the far less plutocrat-friendly environment of the 1950s must have been an economic disaster, right?
But, after decades of unprecedented greed, shoveling their filthy lucre into tax-free investments and off-shore accounts, the electorate is starting to get sick of it:
Two post-election polls – one released Nov. 14 by the Democracy Corps (founded by Stan Greenberg and James Carville), the other released Nov. 16 by the Public Religion Research Institute – reveal the decisively liberal views of the core constituencies within the rising American electorate and its support for government activism, especially measures to help the disadvantaged.

The findings from the P.R.R.I. survey are very illuminating:

*When voters were asked whether cutting taxes or investing in education and infrastructure is the better policy to promote economic growth, the constituencies of the new liberal electorate consistently chose education and infrastructure by margins ranging from 2-1 to 3-2 — African Americans by 62-33, Hispanics by 61-37, never-married men by 56-38, never-married women by 64-30, voters under 30 by 63-34, and those with post-graduate education by 60-33.

Conservative constituencies generally chose lowering taxes by strong margins — whites by 52-42, married men by 59-34, married women by 51-44, all men by 52-41; older voters between the ages of 50 and 65 by 54-42.

*The constituencies that make up the rising American electorate are firmly in favor of government action to reduce the gap between rich and poor, by 85-15 among blacks, 74-26 for Hispanics; 70-30 never-married men; 83-15 never-married women; and 76-24 among voters under 30. Conservative groups range from lukewarm to opposed: 53-47 for men; 53-47 among voters 50-65; 46-54 among married men; 52-47 among all whites.

*One of the clearest divides between the rising American electorate and the rest of the country is in responses to the statement "Government is providing too many social services that should be left to religious groups and private charities. Black disagree 67-32; Hispanics disagree 57-40; never-married women 70-27; never-married men, 59-41; young voters, 66-34; and post-grad, 65-34. Conversely, whites agree with the statement 54-45; married men agree, 60-39; married women, 55-44; all men, 55-43.
This is called a backlash, not a lurch towards socialism. The last three decades of unprecedented growth in wealth for the ultra-rich while unions are smashed, pay remains stagnant for everyone else, and the middle and lower classes have been crushed is the direct cause in the change of the attitudes of the electorate. A quick illustration: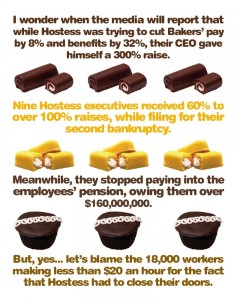 And we see these stories every single day. Millionaire CEO's who own pizza companies are going to attack their employees because they want… health care. Conservatives want to blame workers making barely livable wages while trying to elect people who spent their lives getting filthy rich gutting other people's pensions.
It's a backlash, and the wealthy few have no one to blame but themselves. They started the class warfare three decades or more ago, and have been winning. But folks are tired of being mired in poverty and watching the elite few run over the middle class in their Mercedes. It's really that simple.