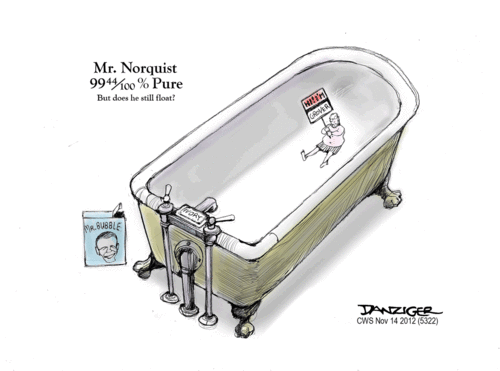 (Jeff Danziger's website)
__
Seems there's a rumor that the incoming Democratic tide may wash away another longstanding impediment to responsible governance. Dana Milbank, member in good standing of the Media Village, points and jeers:
Some prominent Republicans — among them House Speaker John Boehner, publisher Bill Kristol and Sen. Bob Corker — have been making noise about the need for the GOP to be flexible about raising taxes.

But the keeper of the Pledge is not concerned. Grover Norquist, the party's Prefect of the Congregation for the Doctrine of the Faith, says he sees no chance of Republicans going squishy…

Just a few months ago, he predicted to me with confidence that his goals of the past quarter-century were about to be realized: Mitt Romney would win the presidency, Republicans would seize the Senate, and the unified Republican government would quickly pass Paul Ryan's budget, including a complete reworking of entitlement programs.

But instead of laying siege to Washington, he is now leading a rear-guard action to prevent defections. His defense of the Pledge seems to be a mixture of improbable optimism (he maintained that Republicans are "much closer" to smaller government than before) & implied threats ("Republicans who raise taxes do their own brand a great deal of damage, particular- ly if they put in writing to their constituents that's not who they are or what they do")…
The NYTimes is more serious in tone — even a little bit eulogistic:
By Mr. Norquist's count, 219 House members — enough for a majority — and 39 senators have committed to the pledge. But some of those members who signed on, many of them years ago, have started to back away, apparently leaving him several votes shy of the majority he would need to block any tax increase.

"A pledge is good at the time you sign it," said Representative Peter T. King, a New York Republican whose name still appears as a pledge signer on the Web site of Mr. Norquist's group, Americans for Tax Reform. "In 1941, I would have voted to declare war on Japan. But each Congress is a new Congress. And I don't think you can have a rule that you're never going to raise taxes or that you're never going to lower taxes. I don't want to rule anything out."…
Say what you will about Peter King's ethics, character, or IQ, he has the sterling political instincts of a born mucker. If he's willing to risk publicly disrespecting the Great & Mighty Grover, either he wants a political favor (which Norquist may no longer be able to offer), or he's decided to put his vote up for bid with the Obama administration. (I'd just warn whichever White House functionary gets that negotiating job to wear strong gloves — and count his fingers afterwards.)
… The walls at the headquarters of [Norquist's] interest group are covered with signed copies from conservative heroes like Newt Gingrich, who warns Republicans to stick to their guns. Mr. Gingrich, like Mr. Norquist, argues that the pledge protects Republicans from agreeing to stealth tax increases that ultimately hurt them.

"Every time I've watched Republicans try to be clever with Democrats on issues of taxation," Mr. Gingrich said last week, "Democrats have won."
And if there's one thing upon which Newton Leroy Gingrich can legitimately claim to be an expert… it's at losing to clever Democrats!