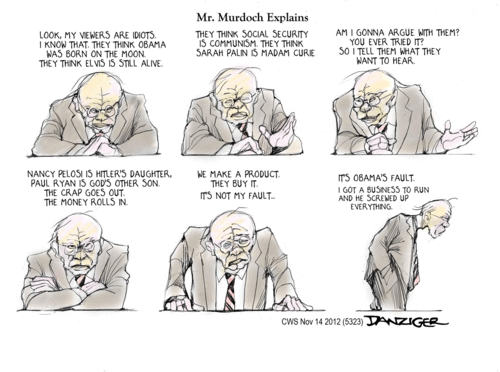 (Jeff Danziger's website)
__
__
Wise words from Professor Krugman on "The Insecurity Election":
… The truth is that while single women and members of minority groups are more insecure at any given point of time than married whites, insecurity is on the rise for everyone, driven by changes in the economy. Our industrial structure is probably less stable than it was — you can't count on today's big corporations to survive, let alone retain their dominance, over the course of a working lifetime. And the traditional accoutrements of a good job — a defined-benefit pension plan, a good health-care plan — have been going away across the board.

Every time you read someone extolling the dynamism of the modern economy, the virtues of risk-taking, declaring that everyone has to expect to have multiple jobs in his or her life and that you can never stop learning, etc,, etc., bear in mind that this is a portrait of an economy with no stability, no guarantees that hard work will provide a consistent living, and a constant possibility of being thrown aside simply because you happen to be in the wrong place at the wrong time…

So here's the question: isn't this exactly the kind of economy that should have a strong welfare state? Isn't it much better to have guaranteed health care and a basic pension from Social Security rather than simply hanker for the corporate safety net that no longer exists? Might one not even argue that a bit of basic economic security would make our dynamic economy work better, by reducing the fear factor?
The problem being, of course, that our current Banana Republicans don't want a 'dynamic economy' — they want a kleptocracy with them as the kleptocrats. As Democrats, it's our job to keep them from achieving this.