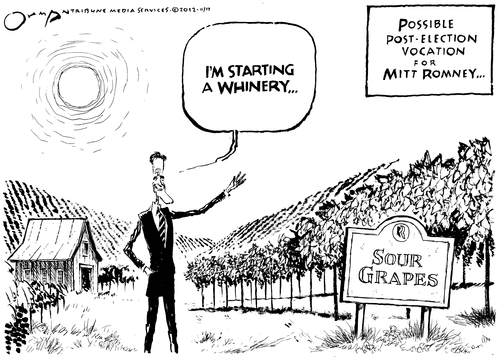 (Jack Ohman via GoComics.com)
___
Greg Sargent, at the Washington Post, on "Poetic Justice":
When all the votes are counted, could Mitt Romney really end up achieving perfect poetic justice by finishing with 47 percent of the national vote? Yup. Dave Wasserman of the nonpartisan Cook Political Report says new votes in from Maryland put Romney at 47.56 percent. He predicts with certainty that with all of New York and California counted, Romney will end up below 47.5 percent of the vote.

Rounded, of course, that would put the final tally at 51-47. Anticipating this moment, Markos Moulitsas has inaugurated the "Romney 47 percent watch."

At risk of piling on, a 47 percent finish would represent a perfect conclusion to the Romney political saga. If Romney ran a campaign of unprecedented dishonesty and lack of transparency, virtually all of it was geared towards misleading people about the true nature of his — and his party's — actual beliefs and governing agenda. This was the case on multiple fronts, from Romney's dissembling about the size of the tax cut he'd give to the rich, to his evasions about the overhaul he and Paul Ryan planned for the safety net, to the obscuring of the massive upward redistribution of wealth represented by the Ryan agenda — the GOP's central governing blueprint for nation's fiscal and economic future…
And Professor Krugman has "A Public Service Reminder":
Paul Ryan Is A Con Man
So now that the Unperson/Ryan ticket has lost, Republicans are clearly expecting Paul Ryan to move right back into his previous role as Washington's favorite Serious, Honest Conservative.

He might get away with it; but I hope not.

The fact is that Ryan is and always was a fraud. His plan never added up; it was never, contrary to what people who should know better asserted, "scored" by the CBO. What he actually offered was a plan to hurt the poor and reward the rich, actually increasing the deficit along the way, plus magic asterisks that supposedly reduced the debt by means unspecified…
***********
What's on the agenda, apart from / involving the increasingly frantic preparations for Thanksgiving?