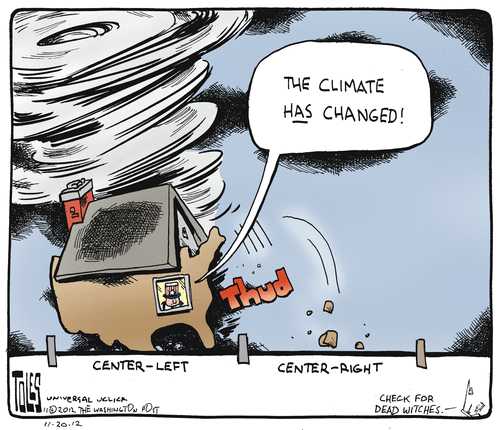 (Tom Toles via GoComics.com)
__
Brief history lesson, from Mr. Doghouse Riley:
ONCE More with Feeling: it is, without question, the election of Ronald Wilson "Gipper" Reagan which marks the beginning of the decline of the American Empire, though it had been busy shooting off its toes for the previous three-and-one-half decades. It's the election of Reagan, or more precisely, the mass-market mythologizing of him which began with the assassination attempt a couple months into his presidency, and took wing when the absurd claims about his scam economic program happened to coincide with an uptick in the business cycle (if by "coincide" one means "precede by two years") which marks the point at which a functional voting majority of Americans decided to pull the lever for Pure Horseshit That Makes Us Feel Better About Ourselves over trying to correct some of the dumbass moves we'd made after WWII made us a military superpower.

Reagan was the candidate of 1) Jim Crow Wasn't Really All That Bad, And Should Have Been Allowed To Die Out Naturally, Subject to States' Rights; 2) We Weren't Allowed To Win in Vietnam; 3) Environmentalism is Just Another Name for Godless Communism; 4) Ours is a "Judeo-Christian" Nation, and its twin corollaries, 4a) Jesus says no abortion, and 4b) the modern State of Israel is, in fact, our magical mystical 51st state. That is, the up-to-the- minute trends in right-wing dipshittery, coupled with the usual collection of antifluoridationist nuts and Gilded Age capitalist rapine. And bonus hippie punching. Delivered affably.

Tell me, really, that this isn't essentially the Republican platform of 2012, and all the years in between. Whazzat? I left out No Taxes and National Debt? Yes, because those are to the Republican party what bikini-clad nubiles are to the producers of domestic beer. Got nothin' to do with the product, but they do draw in the rubes. Taxes? Republicans don't pay taxes. Debt? Who raised the debt more than Reagan? Bush II?

So someone tell me why anyone would believe, fall for, or pay any attention whatsoever to Republican make-over talk? What could possibly come of it?…
**********
Apart from that, how are the Thanksgiving preps — or avoiding them — going?
People have asked, so I'm planning a Black Friday "Artists Among Us" post (if Cole doesn't beat me to it). Kinda wondering if there should also be a separate "Crafters" post, for those of us who just want to talk about what we're doing (trying / planning ) to handcraft our own gifts, or just as a way to make ourselves happy…