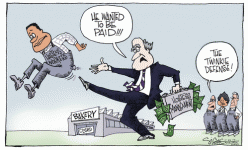 (Signe Wilkinson via GoComics.com — click link for full-sized image)
__
At his blog, Professor Krugman highlights Adam Davidson's NYTimes "Skills Don't Pay the Bills":
… Throughout the campaign, President Obama lamented the so-called skills gap and referenced a study claiming that nearly 80 percent of manufacturers have jobs they can't fill. Mitt Romney made similar claims. The National Association of Manufacturers estimates that there are roughly 600,000 jobs available for whoever has the right set of advanced skills.

Eric Isbister, the C.E.O. of GenMet, a metal-fabricating manufacturer outside Milwaukee, told me that he would hire as many skilled workers as show up at his door. Last year, he received 1,051 applications and found only 25 people who were qualified. He hired all of them, but soon had to fire 15. Part of Isbister's pickiness, he says, comes from an avoidance of workers with experience in a "union-type job." Isbister, after all, doesn't abide by strict work rules and $30-an-hour salaries. At GenMet, the starting pay is $10 an hour. Those with an associate degree can make $15, which can rise to $18 an hour after several years of good performance. From what I understand, a new shift manager at a nearby McDonald's can earn around $14 an hour…
Krugman adds:

… And this dovetails perfectly with one of the key arguments against the claim that much of our unemployment is "structural", due to a mismatch between skills and labor demand. If that were true, you should see soaring wages for those workers who do have the right skills; in fact, with rare exceptions you don't.

So what you really want to ask is why American businesses don't feel that it's worth their while to pay enough to attract the workers they say they need.
There should be a category for Banana Republicans — these guys are only going to get more blatant over the next four years — but if I bulk up the roll at this point Cole will probably take away my keys.