As I mentioned the other day, I made the decision to start supporting MARC, the Marion Animal Resource Conncection as our in-house charity and the recipient for all proceeds from the Balloon Juice Store. Well, Evelyn is sending up the bat flare, and we have a very needy recipient of help: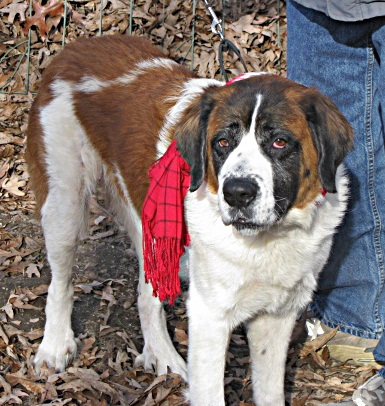 If that picture doesn't break your heart, her story will:
Garnet was rescued from a high kill pound. She obviously did not have a good life. She may be 3 or 4 years old by her teeth but sometimes acts like a puppy! She has worn off all her front teeth almost to the gums and her canines are broken. Maybe from trying to chip ice to get water or biting at wire or metal to get free. She is quite skinny and her coat is dry. It seems to be getting better and growing in some since she has been with her foster parents who like to foster the giant breeds. She is smaller than most Saint Bernards. She went today ( November 26th) for her first heart worm treatment. Total of 3 treatments are needed and the total cost is $535.00 in addition to expenses of being spayed, vaccinations, and intestinal worm treatment. She is a sweet and gentle girl who now deserves to become healthy and find a loving forever home. Your help is needed. Donations can be made via PayPal at MARC website: http://marc4change.org/~marc/

If more money is donated than needed, the additional funds will help with expenses for the other rescued dogs and cats.
You know, I've only had Lily for four years going on this summer, but I know a good dog when I see one. Let's put a smile on Garnet's face and help get her healthy so she can find her forever home. A dog like that needs to be lounging on a couch with a bunch of kids. And once again, I thank all of you for all the money and time you give helping these animals out. I'm struggling to write this post because I have Lily on one hip, Rosie on the other, and I am fighting for access to the tray table holding my laptop. And I wouldn't have it any other way.
I'm in for $50 to get the pot rolling. Thanks in advance, as your generosity and decency really got Charlie's Angels off the ground and running. Let's help out some more animals and help build a quality shelter at another location.
If you donate via paypal, please leave a comment that says "For Garnet from the Balloon Juice community, and please use anything left over for other needy animals."