A whiter shade of fail indeed: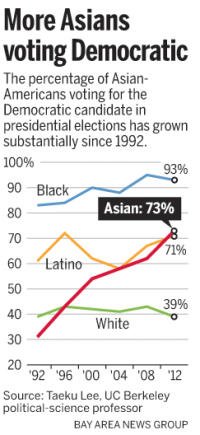 African-Americans are cadillac-driving welfare moms, Latino Americans spread crime and disease, while failing to learn to speak ENGLISH, but Asian-Americans don't fit neatly into a widely-disseminated right-wing propagandist stereotype. Sure, there's a lot of anti-China rhetoric, but I doubt that makes much difference. Nevertheless:
Two decades ago, Asian-Americans reported voting Republican by a nearly 2-to-1 margin, said UC Berkeley political scientist Taeku Lee.

What is driving the leftward turn of a group that is, on average, more affluent than the average American? Not partisanship, say researchers, who find that Asian voters are the most likely to eschew party affiliation and vote on the specific issues that matter most to them.

"Issues drive Asian-American voting behavior," said demographer Daniel Ichinose of the Asian Pacific American Legal Center of Southern California. "Asian-Americans care about health care reform. They care about comprehensive immigration reform. These are issues that the Democrats have done a better job of addressing."

Asian-American voters saw big differences between Mitt Romney and Obama on education, health care, gender and the budget deficit, and favored Obama on most of those issues, according to a pre-election survey of 3,000 voters conducted by Lee and other California researchers.
For whatever reason, it's difficult for many white people to understand that the contemporary Republican party bases its appeal not on fiscal this or Burkean that but on a cultural appeal to white Christians of a certain mindset.
The dog whistles may be too high for serious white people to hear, but they come through loud and clear to non-white voters.
It's not about agreeing to immigration reform, it's about not hating everyone who is "other".