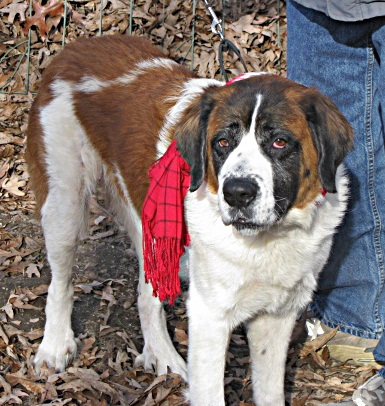 I've had a sinus headache since about four, and after a long morning and long day, have no desire to post, but I did want to give you an update on Garnet, that beautiful St. Bernard that we talked about last night. Evelyn writes:
Hi John,

One of the members of MARC did not get the message that all contact with you would be through me..Sorry.

She reported the below to you..Just to make sure you see it:

WOW!

As of 3:50 pm we have recieved 60 donations for a total of $2523.01 !

I have emailed thank you notes to each donator. Now we can do snail mail.

I can't believe we can actually afford to help animals now! lol.

Thank you all!

As I said on the phone earlier today..You are the best and all your loyal followers too.

I will send you another update in the morning.

Thanks from bottom of my heart.
When I talked to Evelyn earlier today, we were hovering somewhere around $2000, and she said she had been inundated with phone calls from all the volunteers at MARC who were, well, gobsmacked by the donations that were pouring in. Evelyn said she tried to "warn" them what to expect when the Balloon Juice community gets involved, but I guess they just didn't realize how wonderful you all are. She knew, and I knew, but these folks had no clue.
I can't tell you how important this is for a young shoe-string organization like this. This is really going to help them get on their feet, and will really help a lot of animals. So thank you so much. I've also told Evelyn that we have a lot of cat lovers here, so hopefully they will be able to really help take care of some cats, too, and let us know when there are really needy cases. Evelyn thinks that snail mail receipts for tax purposes will be out, and I made a special request that she update us with pics of Garnet and other animals we help out once they get to their forever homes.
Oh, and another thing- the best news in all of this is that I was checking out MARC's facebook page, and it looks like there is already someone who is interested in adopting Garnet, and according to their profile, they have two kids. How does it get any better than that?
You guys are the shit.