Earlier today, Doug Mataconis tweeted: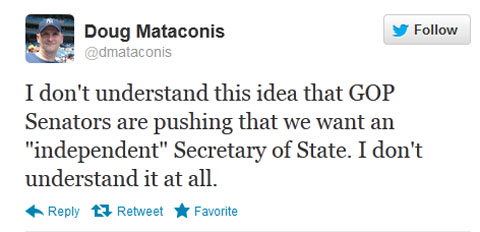 This is the fundamental problem we have right now (and this is not a let's all trash Doug Mataconis post). The problem we have with our media and those who follow our so very messed up political discourse is that all too often, we spend valuable time debating and discussing the nonsense Republicans puke up and throw against the wall to see what sticks.
Let me be clear- the Republicans no more want an "independent" Secretary of State than they want to expand voting rights. Secretaries of State work at the behest of the President to implement his/her foreign policy. The very notion of "independence" is antithetical to the position. You know what an "independent" Secretary of State means- a rogue Secretary of State.
So spending any time analyzing this latest round of nonsense is playing into their hand. What they want is to weaken Obama. Period. That is all they care about. This is just today's most recent round of nonsense from the bullshit party:
Corker, who will be the ranking Republican member of the Senate Foreign Relations Committee in the new congressional term, implied that he considered Rice too much of a partisan and urged Obama to pick a more "independent" person as chief diplomat.

"All of us here hold the secretary of State to a different standard than most Cabinet members," he said. "We want somebody of independence."

He implied that Rice, who is close to the president, was, instead, a "loyal soldier." Corker also seemed to contrast Rice and Secretary of State Hillary Rodham Clinton, with whom he said he has had a positive and "transparent" relationship "from day one."

Collins said that after a 75-minute session with Rice she still had many unanswered questions and remains "troubled" that on the Benghazi issue Rice played "a political role at the height of a contentious presidential election campaign."
This isn't about Susan Rice. This is not about her response to Benghazi. Christ, the Republicans have spent more man hours on Benghazi than the 9/11 attacks or all the hundred or so folks who were killed at embassies during the Bush years. This is little more than waging the GOP's jihad against the Democrats, but this time with a more refined touch.
This is just more bullshit they are churning up to occupy the beltway class, when really all it is is another opportunity to try to hamstring the administration. I honestly have more respect for Joe Wilson, who just stood up and screamed "You lie" than these passive aggressive assholes. And anyone who seriously spends any time trying to figure out what an "independent" Secretary of State is should just be put on your list of idiots to ignore.
BTW- that LA Times piece I linked call Corker a "moderate." We're so far down the fucking wormhole we may never recover.