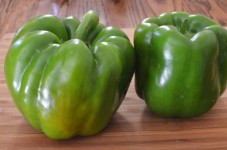 __
From our Food Goddess, TaMara:
I decided that we'd do stuffed peppers tonight and when I went trolling around the blog, found we've done a few variations on them over the years. Tonight's featured recipe is from my cousin Scott. He mentions in the original post that we're a family who loves to cook and I couldn't agree more. On his side of my family, I think everyone has the gift in the kitchen. I have memories of my grandparents' farm and the great food we'd have there. My Grandma Lois made the best fried eggs in the world that I have never been able to duplicate. They were crisp on the bottom (a treatment my family always called "shoe leather" –though that does not do that crust justice), perfectly medium on top and covered in so much pepper you'd sneezed just looking at them. Try as I might, I've never been able to come close to those eggs. I asked my mom a few years ago what I was missing and she replied, "lard". And I'm sure it was previously used lard at that. Grandma Lois kept a can on the stove. It's probably why her fried chicken was so amazing, too.

Anyway that story has nothing to do with tonight's recipes. Stuffed peppers. We have several takes on them:

JeffreyW does a traditional Stuffed Peppers with homemade tomato soup (recipe here).

I have a pretty easy stuffed Red Pepper recipe – though you can use green peppers, no problem (recipe here).

And our featured recipe, below, from my Men Who Cook series, is a vegetarian treat.

How about you, any favorite memories of foods from childhood you can't recreate? Do you have a different take on stuffed peppers that you like to use? Hit the comments and share.

Now for tonight's featured recipe:

This comes from my cousin Scott Adams. Scottie follows in the footsteps of many in my family – the love of cooking (click here for the full story). These peppers are practically gourmet!

Scottie's Stuffed Peppers

Salt
1/2 pound short whole wheat pasta
4 large red bell peppers, tops cut off and reserved, seeded
Black pepper
2 tablespoons extra-virgin olive oil (EVOO), plus more for drizzling
4 jarred roasted red peppers
1 small red onion, finely chopped
2 cloves garlic, finely chopped
2 small portobello mushroom caps, chopped
1 teaspoon crushed red pepper
2 sprigs rosemary, stems discarded and leaves chopped
One 28-ounce can fire-roasted crushed or diced tomatoes
2 cups arugula or baby spinach (a few generous handfuls)
1 cup loosely packed basil leaves
1 cup grated pecorino-romano cheese
1 tablespoon of Oregano
1 teaspoon of Dill

Preheat the oven to 425°. Bring a large pot of water to a boil, salt it, add the pasta and cook until al dente.

Trim the bottoms of the bell peppers, without cutting a hole, so that they stand. Season inside with salt and black pepper. Turn the peppers bottom side up in a 9-by-13-inch baking dish, set the tops alongside and drizzle with EVOO. Roast for 20 minutes.

Using a food processor, puree the roasted red peppers. In a large skillet, heat 2 tablespoons EVOO, 2 turns of the pan, over medium heat. Add the red onion, garlic, mushrooms, crushed red pepper and rosemary and cook until softened, 7 minutes. Stir in the pureed peppers and the fire-roasted tomatoes; season with salt and black pepper. Simmer for 5 minutes. Add the pasta and toss. Add the arugula and basil and cook until wilted.

Preheat the broiler. Turn the peppers upright; fill with pasta. Top with the cheese and broil until melted, 2 minutes. Cover with the tops and serve with any extra pasta.