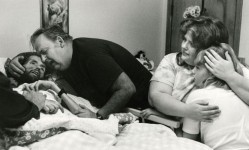 ("The Photo That Changed the Face of AIDS" — Click here for full-sized image & story)
World AIDS Day was yesterday; today I got this note from commentor JCT:
Life re-ran this commentary/gallery yesterday in honor of AIDS awareness day and it is one of the most stunning examples of the power of photojournalism ever. I saw the original article when I was a medical student (it was discussed all over the hospital as I went to school in NYC) and over 20 years later it still takes my breath away.

Two years later I was an intern in a Manhattan medical center where we served a very large catchment that was being devastated by HIV/AIDS. People forget what it was like before the true drug cocktail approaches and we were still trying to figure out how to use protease inhibitors. At my hospital there was a large HIV/AIDS ward, though the inpatients virtually all had full-blown AIDS by then. They were always trying to figure out how to staff that ward because it was so harrowing and I was part of an "experiment" where we didn't have overnight call but instead had extended duty hours. It was basically like living on that floor for a month. I can barely describe the experience. Suffice it to say, by then most of the patients were women in their late 20's-early 30's because the men were all dead. At least one patient per day died and every death created orphans. I can still remember those rooms with patients who all looked just like David Kirby, crying children and stricken mothers who now had to raise the children. Or worse, the patients who had been abandoned by their families and were alone. By the end of the month I was changed forever. It was so difficult the administration halted the staffing because it was so hard on the interns. In retrospect, I feel lucky for the experience and I am a better doctor because of it.

It's over 20 years later and I can still remember many of the faces of the patients there and that Life gallery brought it all back. I still remember one of the only times in my adult life that I had a raised voice argument with another person – a quiet homophobe who intimated that these patients "deserved" what happened to them. People still believe that crap today, but back then it was rampant.

In any case, this is something that everyone should see and remember.

From the Life article:
"Early on," Frare says of her time at Pater Noster House, "I asked David if he minded me taking pictures, and he said, 'That's fine, as long as it's not for personal profit.' To this day I don't take any money for the picture. But David was an activist, and he wanted to get the word out there about how devastating AIDS was to families and communities. Honestly, I think he was a lot more in tune with how important these photos might become."…

Frare's photograph of David's family comforting him in the hour of his death earned accolades, including a World Press Photo Award, when published in LIFE, but it became positively notorious two years later when Benetton used a colorized version of the photo in a provocative ad campaign. Individuals and groups ranging from Roman Catholics (who felt the picture mocked classical imagery of Mary cradling Christ after his crucifixion) to AIDS activists (furious at what they saw as corporate exploitation of death in order to sell T-shirts) voiced outrage. England's high-profile AIDS charity, the Terrence Higgins Trust, called for a ban of the ad, labeling it offensive and unethical, while powerhouse fashion magazines like Elle, Vogue and Marie Claire refused to run it. Calling for a boycott of Benetton, London's Sunday Times argued that "the only way to stop this madness is to vote with our cash."

"We never had any reservations about allowing Benetton to use Therese's photograph in that ad," David Kirby's mother, Kay, told LIFE.com. "What I objected to was everybody who put their two cents in about how outrageous they thought it was, when nobody knew anything about us, or about David. My son more or less starved to death at the end," she said, bluntly, describing one of the grisly side effects of the disease. "We just felt it was time that people saw the truth about AIDS, and if Benetton could help in that effort, fine. That ad was the last chance for people to see David — a marker, to show that he was once here, among us."…
Take my word: It's worth reading the whole thing.