I disagree with Bernard on both the substance and the politics of the fiscal cliff.
Maybe Balloon Juice has been gleefully kicking around John Boehner and Mitt Romney, but the Obama Administration is working toward exactly the goal Bernard advocates: addressing inequality. They've released a serious plan that that increases taxes on the wealthiest by $1.6 trillion, while making $400 billion of  entitlement "cuts" (which are really just increasing efficiency, not cutting benefits). It also includes $50 billion of stimulus, and has a permanent removal of the debt ceiling so it can't be held hostage anymore. The plan is smart policy and smart politics. It's a position Democrats can defend, and it puts Republicans in the position of advocating for unpopular, inequality-increasing benefit cuts on their own. If you're going to call your Congressman, why not tell him or her to vote for this plan instead of doing nothing?
Doing nothing leaves us with the sequestration cuts, which are not benign, and tax increases that are not tailored to address the problem of inequality or the deficit. The tax increases are across-the-board, rather than targeted at the most wealthy. No tax policy is enacted to address major tax issues like carried interest, which should be taxed at ordinary income rates, not capital gains rates.
As for the cuts, here's a simple breakdown: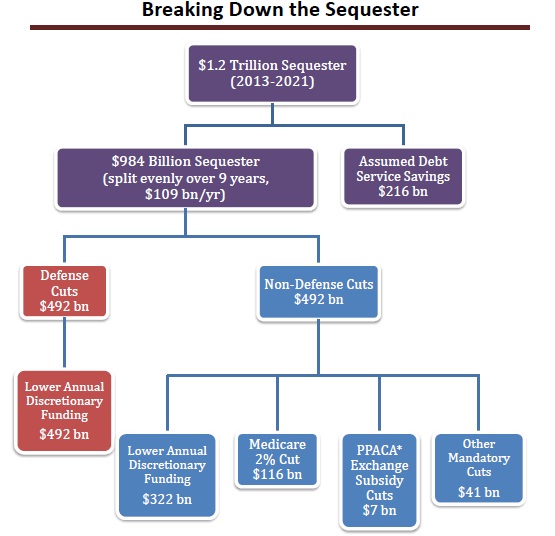 In addition to cutting subsidies for Obamacare exchanges, and Medicare payments to providers, it also would cut payments to the NIH and CDC, education for the disadvantaged, food and drug safety, mental health services, air transportation and air traffic control (more here).  The fact that the cuts are immediate and far-ranging means that they will be implemented in a haphazard and arbitrary way, with the focus being the ability to strip cash from a given program, rather than the value of each program.  You can read a lot more at those links if you want the details.
Finally, Congress is already a dysfunctional body that is addicted to these moronic showdowns leading to blunt, stupid policies. Encouraging them to continue that kind of behavior is like telling an alcoholic that they'll feel better after having another drink.
So, Democrats gloating over their victory is not the problem facing our country, and it hasn't prevented Obama from offering a serious plan. Letting Congress go over the cliff is far more than just a tax increase, and it will make our economic problems, and Congress, worse. I'll be calling my (Democratic) Congresswoman's office to tell her to stay strong in supporting the President's plan and demanding Republican action. If you have a Republican Congressperson, call them and ask them what's their fucking plan.