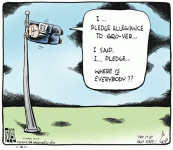 (Tom Toles via GoComics.com – click link for full-sized image)
__
Lee Fang at the Nation, "Grover Norquist's Budget Is Largely Financed by Just Two Billionaire-Backed Nonprofits":
…[C]onsider Norquist's tax pledge and political power another way: that he's just a proxy for the powerful interest groups that finance him. In the nineties, it was big tobacco that used Norquist's tax pledge as a cover to lobby lawmakers against cigarette taxes (Norquist still uses an e-mail system donated to him by Altria to send out Tea Party action alerts against tobacco taxes). Now, big PhRMA and other industry groups provide grants to Norquist while his foundation endorses other giveaways, like protectionist support against importing cheaper drugs from Canada and the classification of tax subsidies to refineries as "tax cuts" that must not be cut….

The Center to Protect Patients Rights donated $4,189,000 to Americans for Tax Reform in 2010, 34 percent of the group's budget that year.

Crossroads GPS donated $4,000,000 to Americans for Tax Reform in 2010, 32.46 percent of the group's budget that year.

The Center to Protect Patients Rights is the foundation used by the billionaire clique led by the Koch brothers to distribute grants to allied groups. In 2010, wealthy moguls like Steve Bechtel of Bechtel Corporation and Steve Schwarzman of the Blackstone Group met behind closed doors to help lend money to these types of efforts.

Crossroads GPS is the undisclosed group run by Karl Rove. The only known donors are folks like Paul Singer, the "vulture" hedge fund king who benefits enormously from tax strategies like the carried interest loophole. Norquist's pledge largely benefits billionaires like Singer and Schwarzman, who pay almost nothing in payroll taxes and likely pay a lower rate than their secretaries…
Nice polite WaPo columnist E.J. Dionne, explaining why Democrats should "ignore Norquist, but learn from him":
… Pretending that Norquist is more powerful than he is allows Republicans to win acclaim they haven't earned yet. Without making a single substantive concession, they get loads of praise just for saying they are willing to ignore those old pledges to Grover. You can give him props as a public relations genius… But kudos for an openness to compromise should be reserved for Republicans who put forward concrete proposals to raise taxes…

Start by insisting that Social Security and any increase in the retirement age be kept off the table. President Obama's bargaining hand will be strengthened further if he can tell Republicans that there just aren't Democratic votes for steep cuts in Medicaid and Medicare. The president's room for maneuver expands still more if liberals refuse to look at cuts in programs unless Republicans are prepared to raise tax rates on the wealthy…

The only way tax reform might raise enough money to prevent a rate increase, let alone create an opportunity for rate cuts, is to reduce popular deductions (like the one on mortgage interest) so deeply that middle-class Americans would get a tax increase, too. And eliminating or sharply undercutting the deduction for state and local taxes is a bad idea. This only penalizes higher-tax states that try to solve their own social problems — for example, by providing health insurance to their low-income residents.

And all the schemes to eliminate tax expenditures to avoid rate increases have the effect of protecting just one group: Americans with very high incomes. That's how the math works.

The right thing is to bring back Bill Clinton's tax rates on the well-off and then have a broad tax reform discussion next year. A similar logic applies to health-care programs, as Jonathan Cohn suggested in the New Republic. Before making big cuts in Medicaid and Medicare, we need to see whether the reforms in the Affordable Care Act can contain medical inflation.

The fiscal cliff creates an enormous opportunity to end an era in which it was never, ever permissible to raise taxes. In the pre-Grover days, conservatives believed passionately in pay-as-you-go government. A tough stand by progressives will make it easier for conservatives to return to the path of fiscal responsibility.