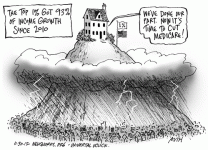 (Tony Auth via GoComics.com – click link for full-sized image)
Professor Krugman, on his blog:
… I thought I'd look at the dollars and cents — and even I am somewhat shocked. Those [high income] tax hikes [proposed by the Obama administration] would raise $1.6 trillion over the next decade; according to the CBO, raising the Medicare age would save $113 billion in federal funds over the next decade.

So, the non-serious proposal would reduce the deficit 14 times as much as the serious proposal.

I guess we have to understand the definition of serious: a proposal is only serious if it punishes the poor and the middle class.
Also known as, "The Class Wars of 2012":
… This was very much an election pitting the interests of the very rich against those of the middle class and the poor.

And the Obama campaign won largely by disregarding the warnings of squeamish "centrists" and embracing that reality, stressing the class-war aspect of the confrontation. This ensured not only that President Obama won by huge margins among lower-income voters, but that those voters turned out in large numbers, sealing his victory.

The important thing to understand now is that while the election is over, the class war isn't. The same people who bet big on Mr. Romney, and lost, are now trying to win by stealth — in the name of fiscal responsibility — the ground they failed to gain in an open election…

The point is that the class war is still on, this time with an added dose of deception. And this, in turn, means that you need to look very closely at any proposals coming from the usual suspects, even — or rather especially — if the proposal is being represented as a bipartisan, common-sense solution. In particular, whenever some deficit-scold group talks about "shared sacrifice," you need to ask, sacrifice relative to what? …

So keep your eyes open as the fiscal game of chicken continues. It's an uncomfortable but real truth that we are not all in this together; America's top-down class warriors lost big in the election, but now they're trying to use the pretense of concern about the deficit to snatch victory from the jaws of defeat. Let's not let them pull it off.
***********
Apart from keeping a sharp eye on GOPers bearing 'non-negotiable' demands, what's on the agenda for the start of a new week?