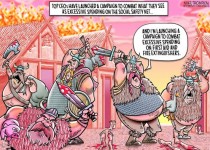 (Mike Thompson via GoComics.com — click link for full-sized image)
__
As long as the Austerity Bombers are yapping, I'm gonna keep harping. Today's sermon, from Mr. Charles P. Pierce, "Why No Deal Is Better Than A Bad Deal":
… Nothing has so illustrated the distance between the courtier press, and the elites that they have come to serve, then the ongoing mock-horror from both camps that politics can be messy and angry and frustrating. I've come to the conclusion that most of the mock-horror has its roots in the acceptance of the lunatic notion that government should be run "more like a business." You would think that, with the resounding defeat handed to an MBA automaton last month, this argument would go into eclipse for a while. But it is the clear basis for almost all of the anguish and garment-rending inside the Beltway.

There may not be a "deal." Smart people have speculated that we may not need a "deal" and, in any case, a "deal" is not necessarily the be-all and end-all of "governing." I have said more than once that it is not the president's job to tame John Boehner's crazy-ass caucus for him. The president was re-elected on a slate of policies that the country wanted. He has no affirmative obligation to water these down just to "get a deal done" for the sake of appearances, just as he is under no affirmative action to offer up Medicare and Social Security as blood sacrifices just so that John Boehner and his crazy caucus will be placated. The country must be governed, It does not necessarily have to be governed efficiently, as long as the manifest will of the people is somehow expressed through it. Perhaps the people would like it to run more smoothly, but they want most for it to run in such a way that it responds to their expressed wishes. For example, there is not clamoring in the country — or any real need — for the kind of austerity agenda to which all the fiscal cliffies seem to be trying to accustom us. If inefficiency is all that saves us from a damaging set of policies, then god bless inefficiency. (And remember old Dan Webster's warning that the simplest governments in the world are despotisms.) If that inconveniences the mandarin class, well, that's just going to have to be too bad.