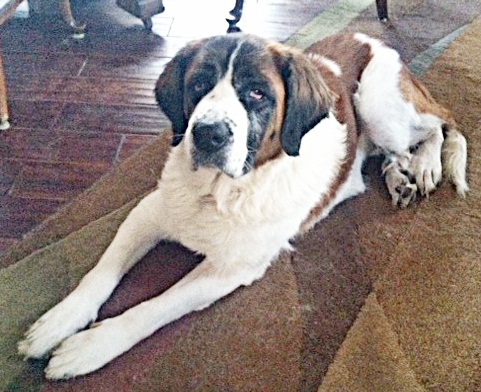 Remember that beautiful St. Bernard we all pitched in to help out with her horrible case of Heartworm? Evelyn sends an update:
Hi John,
Asked for update on Garnet with her heart worm treatment,adoption process, and also final tally on donations from Balloon Juice. Also some more pictures of her.

April reports that a total of $3,017 was donated by BJ followers..Absolutely wonderful…April sends her sincere thanks and gratitude to you and all the folks who donated and care for the animals.

Please read below from Sue Scruggs, foster mom.

Evelyn, Garnet is doing fine having had her first HW shot on Nov. 26, 2012. Garny, as we fondly call her is enjoying the company of her foster sibs, two Saints, one Lab/Griff mix, one Golden/Terrier mix, and a new foster Saint Bernard/Great Pyrenees mix female. Garny is laid back most of the time but every now and then shows her spunky side wanting to play tug and bounce around like a puppy trying to get the others to play. Of course we are keeping her fairly quiet since her HW shot and she seems fine w/ being low key, as Saints so often like to just lie around! Her favorite thing is to cuddle up w/ her foster dad on the couch in the evening to watch TV!

We received glowing references both personal and from the vet for the potential adopter. We are in the process of getting someone to do the home visit which should happen this week. I emailed today to the Xxxxxxx's re the adoption process status and also suggested a possible transport option if they are planning on taking her before her next HW shots on Dec. 26, 2012. We will let you know when plans are made.

I am attaching some recent pictures of Garnet.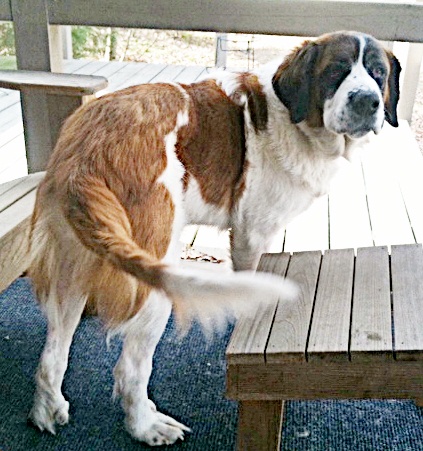 I've also heard that one of the potential permanent homes for Garnet is a Balloon Juice commenter, but we'll keep that on the down-low until it happens.