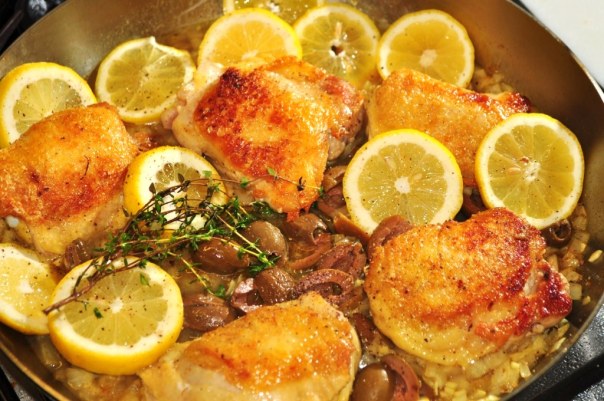 Photo by JeffreyW
__
From our Food Goddess, TaMara:
This has to be quick tonight. It's been a crazy, busy week and I almost forgot put this up today. Tis the season – work and fun. It was a toss-up tonight between the garlic chicken recipes and a great slow-cooker recipe one of the guys at the office told me about this week. I decided on saving that for next week, after I have a chance to test it out.

For tonight I chose Jeffrey's Lemon Garlic Chicken, which is the picture at the top and the recipe is here.

I'm going for my favorite, fun recipe, Garlic, Garlic Chicken (recipe below) that always surprises me how good it is. I've featured it before, but it was several years ago, so I thought it was time to revisit it. It's quick and easy to prepare.

How are your holiday plans coming? Anyone have a special recipe they are doing this year? I'm not sure where Christmas Eve is going to be, my house or a friend's, either way, we'll be cooking, we just don't know what yet. What's on your holiday menu?

Now for our featured presentation:

This recipe is surprising in its flavors. The garlic is sweet and nutty, making a great dipping sauce for bread. The chicken is infused with flavor, but not overpowered by garlic. Serve with a loaf of crusty bread and a salad with a variety of greens and a light, tangy dressing to compliment the sweetness of the main course.

Garlic, Garlic Chicken

5 lb roasting chicken
1 cup of wine
1/2 cup of chicken broth,
salt & pepper
40 cloves of garlic (unpeeled).

Roast in a cooking bag for about an hour. The garlic can be squeezed out of the skins at the table onto fresh bread. Or, you can take the broth from the cooking reduce it and then add the peeled garlic into that. It makes a very nutty, garlicy kind of gravy.