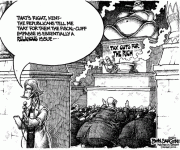 (Ben Sargent via GoComics.com — click link for full-sized image)
__
Now that Senator Elizabeth Warren (I still loving saying that) looks to be joining the Senate Banking Committee, here's a look back to an interview she did with Charlie Pierce for Esquire before the election:
CHARLES P. PIERCE: How did we get back again to too big to fail? How did that happen?

ELIZABETH WARREN: I think it happened a couple of different ways. One of them was — and I think there was a miscalculation back in 2008, 2009 — a lot of people, at least I subscribed to it, a lot of people thought, Okay, we have 30 years of trying deregulation and to cut taxes and it has brought us to the biggest financial crisis since the great depression. So I thought what would happen over the next 50 years, we'd spend one year rewriting the financial rules and we'd be tough on the banks — as a country, we would be. And then the next 50 years, we'd concentrate on rebuilding America's working families, creating opportunity and a better middle class, creating these opportunities for kids to rise out of poverty for all of our children to be included, because that's what we do. I just truly believe that. I looked at that in 2008, 2009 and said, We tried the experiment…. Well, it just seemed so obvious to me! We had tried it, right? Coming out of the Great Depression to basically late '70s, early 1980s, just almost every piece of legislation that passed through Congress was through the filter of: Does it strengthen the middle class? Does it create more opportunities for working families? And that was the litmus test. That switches in the early '80s, when the Republican party says the role of government is to protect those who've already made it, let them keep more of the money, let them keep more power. And so we tried that for 30 years and ended up with an economy that almost ran over a cliff and crashed into the stone age….

This was not a natural disaster. The crash of 2008 was manmade. And that's important because it has both halves in it. If we're not careful, we create more problems,and it also means though it's within our capacity to prevent this from happening. There were no financial crashes between the 1930s and the late 1980s until the deregulation started again. The relevance of this is what I think is so interesting about this: you know, there was a financial panic. They used to call it "panic," roughly about every 15 years from the 1790s forward, and it was the insight in the 1930s that we can do better than this. We can put some basic rules of the market: transparency, a level playing field, which were the SEC rules; the FDIC, you know, to make it safe to put money in banks. And we bought 50 years of economic peace. But it's always the case that the financial institutions, they're always looking for the chink in the wall. They want everyone else to follow the rules, but, you know: Can they get one little advantage? Can they get one little exception?…
It is also a comfort to me that Nancy Pelosi is still doing her usual fine job of playing Bad Cop for the Obama administration, per Greg Sargent:
It's a perennial fear among liberals: In the quest for a fiscal cliff deal, the White House and Democrats will ultimately acquiesce to GOP demands to raise the Medicare eligibility age. But one Democrat is drawing a line against this possibility: Nancy Pelosi.

"I am very much against that, and I think most of my members are," Pelosi said in an interview with me today. "I don't see any reason why that should be in any agreement."

The argument against raising the eligibility age is that it would leave hundreds of thousands of seniors without health coverage and wouldn't raise that much money for deficit reduction, since many of those seniors would go into Medicaid or the Obamacare exchanges, offsetting savings. The Congressional Budget Office recently estimated that it would save $125 billion over 10 years.

Pelosi echoed this complaint succinctly, saying: "Show me the money." She also said flatly that she didn't believe raising the eligibility age would be in the final deal, despite GOP demands: "I don't anticipate that it will be in it."…
**********
What's on the agenda for another Friday in the post-election, pre-inauguration December doldrums?