Lead wingnut on the Supreme Court Antonin Scalia:
U.S. Supreme Court Justice Antonin Scalia compared homosexuality and murder on Monday as he argued at a Princeton seminar that elected bodies should be allowed to regulate actions they see as immoral.

"If we cannot have moral feelings against homosexuality, can we have it against murder? Can we have it against other things?" Scalia said, according to The Associated Press.

***

Scalia said that while he did not believe such hyperbole was "necessary," he did think it was "effective" in forwarding his argument that legislatures should be allowed to ban acts they believe to be immoral.

"It's a form of argument that I thought you would have known, which is called the 'reduction to the absurd,' " Scalia said.
First of all, homosexuality doesn't even belong on the same continuum as murder- one is a sexual orientation, the other IS FUCKING KILLING SOMEONE. Regardless, it seems like I've heard some other bloated old white guy using the same excuse to say obnoxious, offensive, and simplistic things: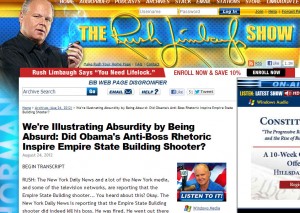 Knew that sounded familiar.