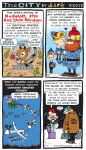 (John Backderf via GoComics.com — click link for full-sized image)
__
Dave Weigel at Slate asks the un-musical question "Why Has Pete Peterson's Expensive Campaigna Against the Deficit Failed?":
… For 20 years, a coalition of wealthy people—Pete Peterson chief among them—has spent hundreds of millions of dollars to build public support for austerity. They have held annual summits, then semiannual summits. They've written books. They've started up coalitions. They've partnered with MTV. It's been five weeks since Barack Obama was re-elected, and there've been two gatherings in downtown D.C., put on by Peterson-tied organizations, asking politicians to do something about that debt.

But do what, exactly? Here's the current problem with Peterson-ism: As scary as it seems to liberals, as clear as it may be that Peterson wants to build momentum for entitlement cuts, the actual work of these groups has moved us no closer to those said cuts…
Not that the professional courtiers of the Media Village aren't working hard for Peterson's estimated $458million largesse. Here's Charlie Pierce at Esquire on the most fragrant recent effort:
One of my primary criticisms of Tiger Beat On The Potomac has been that the entire enterprise has been dedicated totally to gossip, triviality, and Drudge-baiting to the exclusion of what's actually going on in the country to the people these politics are supposed to serve. Alas, today, the two presiding intellects of the publication put their watery heads together to discuss "bold" policy choices. I hereby take back everything I wrote in the former vein. If this is their idea of discussing policy, I wish to the god that gave me breath that they'd go back to who's zooming whom at some lobbying shop.

In short, Messrs. VandeHei and Allen have decided that the way to a "rocket-propelled" economy is to cut corporate tax rates to almost nothing, close a bunch of loopholes that will reopen under new rubric in approximately 11 seconds, and essentially do away with the American middle class, or at least impoverish its dwindling membership to the point at which nobody can afford to buy anything anyway…
Jon Chait at NYMag's Daily Intel adds a professional critique:
Politico editors Jim VandeHei and Mike Allen today have published what may be the most revealing piece I have ever read about the Washington power elite. The value of the piece is almost entirely anthropological. That is to say, read at face value, it tells the reader almost nothing new. But examined as a cultural specimen, it offers profound insight. The piece reads as if it were written by Upton Sinclair, if he were taken prisoner and trying to smuggle messages out to the world past a particularly literal-minded group of censors…
***********
Apart from correctly labelling the hand-held implements of agricultural utility, what's on the agenda for Twelve-Twelve-Twelve?