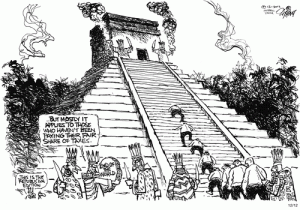 (Pat Oliphant via GoComics.com — click link for full-sized image)
__
Odds are the world won't end a week from Friday, although some Repubs may wish it had. A ray of hope, for those of us in the 99%, from Bobby Caina Calvan at the Boston Globe:
WASHINGTON — The Senate's Democratic leadership announced committee assignments Wednesday, and as expected Senator-elect Elizabeth Warren will have a seat on the Banking Committee — befitting her previous role as a fierce watchdog on banks and Wall Street.

Warren was also named to two other committees — one on aging, and the other on health, education, labor and pensions — that will provide her with additional platforms to work on issues affecting the country's middle class…
The Globe's Noah Bierman had an interview with her in the Sunday paper:
Elizabeth Warren is resigning the tenured post at Harvard Law School that took her 30 years to achieve. She has met privately with her former opponent, Scott Brown, who addressed her as professor instead of senator-elect. And she has spoken half a dozen times with majority leader Harry Reid about her new role in the Senate…

"Here's how I see this," Warren said. "My job is to be effective on behalf of Massachusetts, and so what I'm trying to parse through is the difference between how much of this is about your own initiative, how much it's about finding other bills that are really what you'd like to see get done and offering to be helpful, [and] how much it's looking for the little cracks that are windows of opportunity."

Certainly, Warren is not promising a retreat. She said she will continue to be an outspoken voice on her priorities, which she described as filibuster reform, lowering college debt, financial regulation, and public infrastructure and clean energy investment, all of which she said will help the middle class. She said she wants to repeal the Defense of Marriage Act, which the Supreme Court also announced on Friday that it would review…

She described her crowning policy achievement, the creation of the Consumer Financial Protection Bureau that raised her national profile, as one of those cracks of opportunity, a once far-fetched notion that became possible after the bank bailouts infuriated much of the nation.

"I knew they were going to have to rewrite the financial rules," she said. "And if they're going to have to rewrite the financial rules, that's going to create an opening to rethink consumer finance."…
Dave Weigel at Slate highlights some of the other significant Democratic assignments:
– Sen. Michael Bennet moves from the Budget Committee to the Finance Committee, which puts him into much closer contact with the financial industry right as he takes over the Democratic Senatorial Campaign Committee.
__
– Tammy Baldwin, arguably the most progressive new member of the new Senate, gets Homeland Security, Budget, HELP (Health, Education, Labor), and Aging.
__
– Angus King, the independent who's caucusing with Democrats, gets Budget, Rules, Armed Services and Intelligence for his troubles.
__
– Sen. Mary Landrieu, arguably the most endangered Democrat up in 2014, chairs the Small Business committee — again, nice connections to industry. Same with Sen. Jay Rockefeller, who's up in 2014 and chairs Commerce….
What else is on the agenda for the morning?