This is Caroline Previdi, 6 years old, who was murdered yesterday in Newton: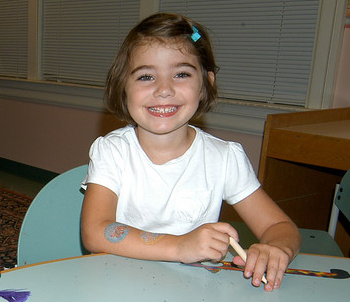 Her father, Jeff Previdi, was a graduate of Bethany College, the town I live in. He was my mother's student (she taught there for over 30 years), and additionally, he was a member of Beta Theta Pi, the fraternity that is across the street from the house I grew up in. My mother was the Beta fraternity advisor for a decade or so, and Jeff was one of her advisees.
She was murdered in cold blood by some lunatic who got his weapons of mass destruction from his mother, who is now being described as a "gun enthusiast" and "gun collector" and survivalist. That little girl is dead because some jackass had a crazy kid and a gun fetish.
In another close call, my neighbor down the street for years, Bob Sandercox, who was the VP of Bethany College for 40 years, had a grandson who was also in the school, but miraculously survived.
So in my town of 350 people, there are two connections to the horrible violence that occurred yesterday hundreds and hundreds of miles away. When these events happen, no one is left untouched. This sickness, the obeisance and fealty to the NRA, the tea party lunatics, and "gun enthusiasts," has got to stop.
The right of Mrs. Lanza to own a shitload of guns and sire a child with mental health issues with easy access to those guns should not trump the right of Caroline Previdi to make it 2nd grade.
This has to end. This has to stop. And outraged blog posts are not going to do it. Money will. There needs to be a coordinated effort to fund the Brady Campaign and other gun control groups in the way that the NRA is funded, so congresscritters will listen. We have got to stop this violence. We need to shame gun enthusiasts who put their penis extensions ahead of sensible gun laws that might help keep their fellow citizens alive. We need to make it so have an NRA sticker on your car is as toxic as claiming membership in the KKK.