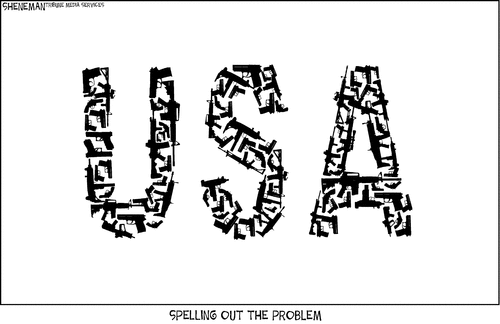 (Drew Sheneman via GoComics.com — click link for full-sized image)
Per the Washington Post:
President Obama on Monday began the first serious push of his administration to attempt to reduce gun violence, directing Cabinet members to formulate a set of proposals that could include reinstating a ban on assault rifles.

The effort will be led by Vice President Biden, according to two people outside the government who have spoken to senior administration officials since Friday, when a gunman killed his mother and rampaged through Sandy Hook Elementary School in Newtown, Conn., killing 20 children, six adults and himself.

The tentative steps ended a paralyzing debate within the administration over how hard to pursue gun-control legislation, which has been a politically perilous issue for many Democrats. There were signs Monday, however, that such fear was abating on the Democratic side of the aisle….

But any significant gun legislation would require support from leading Republicans, none of whom joined Democrats on Monday in outlining specific changes they might consider.

The rising anxiety in Washington over how to respond to the Sandy Hook massacre came as a new Washington Post-ABC News poll found a shift in the way most Americans view such tragedies and the reasons behind them. More than half of the respondents to the poll, conducted over the weekend, said the shooting in Connecticut reflected societal problems rather than the isolated action of a troubled individual. Fewer than a quarter said the same thing after the July shooting in a Aurora, Colo., movie theater, where a gunman killed 12 people and injured dozens.

Obama, who has appeared shaken by the Sandy Hook shootings, met Monday with Biden, who advocated for stricter gun-control measures during his years in the Senate. The president also spoke Monday with Education Secretary Arne Duncan, Attorney General Eric H. Holder Jr., and Health and Human Services Secretary Kathleen Sebelius "to begin looking at ways the country can respond to the tragedy in Newtown," according to a White House official who spoke on the condition of anonymity.

Others involved in the new effort include White House Counsel Kathryn Ruemmler; Biden's chief counsel, Cynthia C. Hogan; and senior adviser Valerie Jarrett, who traveled with Obama to Connecticut on Sunday to address a memorial service for the Sandy Hook victims…
Aaron Blake at the WaPo has a chart of every Senator's NRA ranking.