The NRA protectors, including Joe Manchin who bravely spoke out about gun control the other day, have now found their new scapegoat to deflect from the only lobbying group they fear as much as AIPAC. That scapegoat, straight from the newly chastised Sen. Manchin: video games:
Manchin spent more of the interview putting the focus on violent video games and mental health issues.

"Look at Grand Theft Auto, put out by Rockstar Games in New York City and see what it promotes," Manchin said, adding later: "Shouldn't that be looked into and maybe be banned?"
This will be a recurring theme, despite the fact that numerous studies and meta-analyses find an association between gun availability and gun violence, and no such association between video games and gun violence. I could bore you with study after study, but since that will just be rejected by wingnuts and blue dogs because the baby Jesus is not cited, I'll just post this: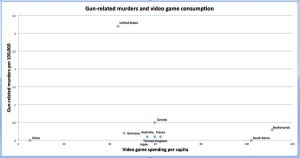 Anything to deflect from the simple fact that it is the widespread availability to guns that… leads to increased levels of gun violence. Remember how Marilyn Manson was responsible for Columbine and comic books and that crazy Elvis and his rock and roll were responsible for the degradation of society. This will be yet another success in the right wing plot to make knowing shit a liability.
Sigh. We live in the stupidest damn country ever, and it will be depressing to watch this meme spread, which, when boiled down to the core argument will be: "Easy access to guns for insane people doesn't kill people, GRAND THEFT AUTO KILLS PEOPLE." The only thing we absent from this idiotic debate will be Holy Joe Lieberman on Morning Joe talking about Call of Duty.
Can I just have my house secede from the nation?
*** Update ***
BTW- the Bushmaster rifle used to execute 26 kids and teachers was purchased in 2010. GTA's last release was in 2008. But somehow, it was the 5 year old game and not the easy access to the weapon responsible for the massacre. And oh, yeah, the other diversion is mental illness. Sure, we should do something about mental illness, and most of the people that will now spend the next few weeks covering for the NRA screaming "DO SOMETHING ABOUT MENTAL ILLNESS" are also the same people wanting to gut Medicare and Medicaid, the largest providers of mental health care. Apparently, according to wingnuts and gun nuts, there is no comparative level of mental illness in other countries- they are just uniquely high in the United States. I guess I should not be surprised they reject the normal distribution the same way they rejected the 2012 polling data. TRUTH- there are the same levels of mental illness pretty much everywhere. Advanced societies deal with them and don't allow them to purchase assault rifles with 30 round clips. A crazy stance, I know.
I guess we should all just be happy that Lanza didn't use an automatic crossbow like Van Helsing, because then we'd be blaming Demon Hunters in Diablo III and hunters in WoW and Blizzard would be in a world of shit. Bushmaster would be fine, because weapon sales are once again going through the roof, as they always do after every massacre. Because, in the Idiocracy, more weapons = more betterer!