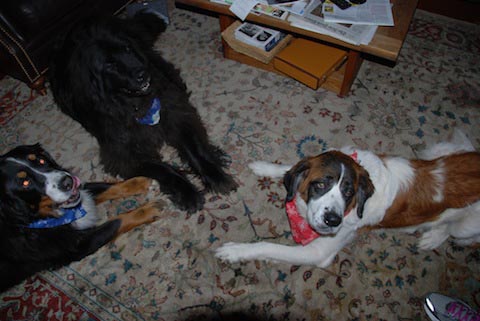 A couple weeks ago, Evelyn from MARC forwarded me the sad story of Garnet, a St. Bernard who was underweight, had broken all her teeth trying to get out of a cage, and who was dying of heartworm. I put up the Bat Signal, and you all responded, and we raised $3,000 when all we needed was a couple hundred bucks. Well, Garnet is now in her forever home, and here is a report from BJ commenter Keith, who adopted her:
Hi All,

I wanted to take the opportunity to formally thank each of you for the part each of you played in order for us to bring Garnet to her new home and to give you an update on our new family member.

After we successfully completed the reference checks and house visit, Sue (Garnet's foster Mom from the Marion Animal Resource Connection (MARC)) arranged for us to use the Road Dogs Transport service to bring her up north. Each week this organization transports a rescue pets safely in a temperature and humidity controlled trailer on their route from Tennessee to New England.

We met the transport at a Harrisburg truck stop just after midnight. In 90 minutes she arrived at her new home in the western Philadelphia suburbs meeting her new sisters. Our family already has two large breed dogs, a Bernese Mountain Dog and a Newfoundland. Garnet is actually the lightweight of the family weighing in at a mere 75 pounds (quite petite for a St.Bernard mix). I slept on the couch with Garnet next to me on the floor in case there were any problems with the other dogs, but it was a very quiet night.

The next day, she was checked out by our Vet and was deemed fit without any major issues although they said that she could probably put on a few pounds. They will be performing the last of the heart worm treatments a few days after Christmas. MARC will be reimbursing the cost of these final treatments thanks to all the generous Balloon Juice contributors.

Garnet's adjustment to our home has been very easy. She loves to go walks, snuggle on the couch, and never ventures far from anyone who can scratch her back or belly. She is a bit skittish when she is forced to relocate and has a phobia of staircases, but she is positively joyful on our walks – grabbing the leash by her teeth and jumping from side to side as she explores the new neighborhood.

We have two college age daughters who had a great Christmas surprise when they arrived home from school to find the new arrival. Her perpetual sad eyes are quite a contrast to her vigorous tail wagging, which seems to be constant when she isn't sleeping.

John, I cannot thank you enough for posting her picture. We fell in love as soon as we saw those sad eyes. I have no doubt that she will continue to be a source of great happiness for our family for many years. Thank you for making this happen.

Sue and Evelyn, thank you so much for making the adoption process painless and swift. I had never been through the rescue process before, and you made it extremely easy. We can't thank you enough.

John, please feel free to edit and post as you deem appropriate. I have included a few pics as well. As a long-time lurker, I feel quite fortunate for the family you created at Balloon Juice that enabled this small miracle to happen for us.

Keith
Here are two more pics. The first is Garnet doing what all doggies do best- lounging: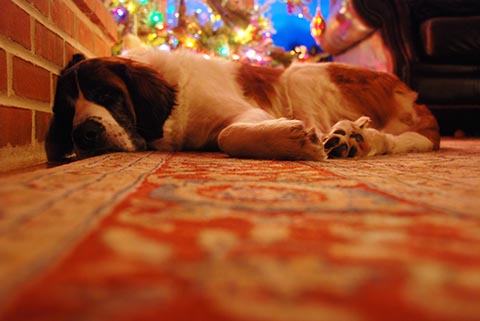 Finally, this picture will warm your heart. Here is Garnet resting by the hearth, with the Christmas Tree in the background. Our very own Christmas miracle.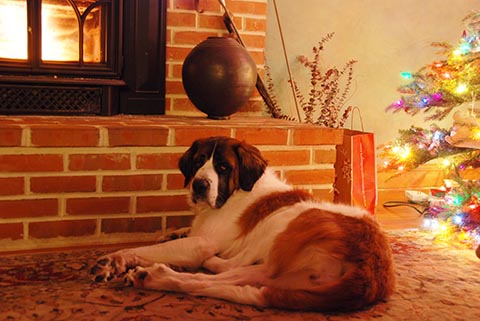 Who wants to bet Keith's daughters are arguing about who gets to have Garnet share the bed?
But hey- there are a lot more dogs out there who need homes. The easiest way to contribute to this worthy endeavor is to pick up a Pets of Balloon Juice Calendar for 2013, and all the proceeds will go to MARC. Or, if you prefer a more direct approach, the MARC website is here and they accept any and all donations. And unlike many charities, 100% of your donations will go to help needy animals. There is no overhead, there is only love and the desire to save lives.
I know I am a cranky SOB, but I love you guys for all that you do for these animals. I'm here at home on a snowy, blustery night, and I have three dogs on my lap (well, I did before I pushed them off so I could access the laptop), and I honestly can not tell you how much these animals have done to change my outlook on like. We talk about rescuing animals, when in fact they rescue us. Thanks again for everything.