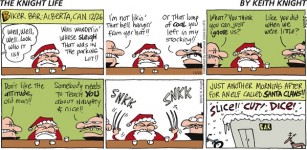 (Keith Knight via GoComics.com — click link for full-size image)
.
And for something completely different, a sweet story from the NYTimes' Frank Bruni:
… But at some point Dad, like America, changed. I don't mean he grew weepy, huggy. I mean he traveled from what seemed to me a pained acquiescence to a different, happier, better place. He found peace enough with who I am to insist on introducing my partner, Tom, to his friends at the golf club. Peace enough to compliment me on articles of mine that use the same three-letter word that once chased him off. Peace enough to sit down with me over lunch last week and chart his journey, which I'd never summoned the courage to ask him about before.

It's been an extraordinary year, probably the most extraordinary yet in this country's expanding, deepening embrace of gays and lesbians as citizens of equal stature, equal worth. For the first time, an American president still in office stated his belief that two men or two women should be able to marry. For the first time, voters themselves — not lawmakers, not courts — made same-sex marriage legal. This happened on Election Day in three states all at once: Maine, Maryland and Washington. A corner was turned.

And over the quarter-century leading up to it, at a succession of newspapers in a succession of cities, I interviewed scores of people about the progress we were making and why. But until last week, I couldn't bring myself to examine that subject with the person whose progress has meant the most to me: my dad…
******
Merry Festivus to all, and may your Airing of Grievances be both inventive and brief!