I took y'all's advice and cancelled the Christmas soirees due to illness. Actually, my husband called people and told them I was down with possibly the flu. A few people turned up anyway, but they were forewarned, so if they get the crud, it's not my fault.
From what I hear, this nasty virus is laying people low nationwide. I feel a little better today, but still shaky. I've been piled up on the sofa since Saturday. Thank god for Roku. I've watched a ton of movies plus a couple of seasons of Julia Child's "The French Chef" from the 1960s.
My dogs joined me on our L-shaped couch, mimicking my burrowing behavior with whatever blankets and throws they could steal from my nest. These glowing green eyes have haunted my fever-wracked dreams: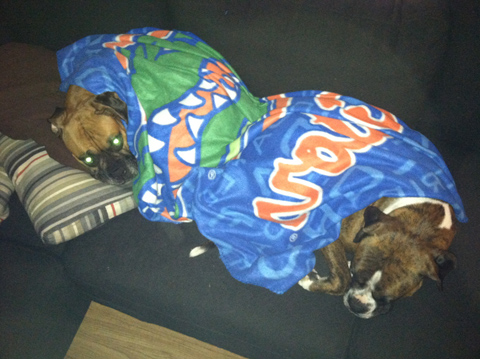 I went ahead and cooked a ginormous standing rib roast that I already had on hand, but I haven't tried it yet. My husband says it's good. I usually make French onion soup with roast leftovers, which I plan to do this time as well. But now I've got tons of leftovers. Any suggestions?
I hope you all had a nice holiday. Please discuss whatever!
[X-posted at
Rumproast
]