Via TPM, ponder this report on the latest in the fiscal cliff  slope clusterf**k talks between our outstanding GOP opposition clueless toads and the President:
"I'm modestly optimistic that an agreement can be achieved," he added.

Obama announced that the fate of a potential deal lies with Senate Majority Leader Harry Reid (D-NV) and Minority Leader Mitch McConnell (R-KY), who will work together to present a prospective package to their respective conferences over the weekend.

Should that effort fail, however, Obama indicated that he would call upon Reid to bring the original White House proposal — extending Bush era tax rates on income below $250,000 including other measures — for an up-or-down vote in the Senate.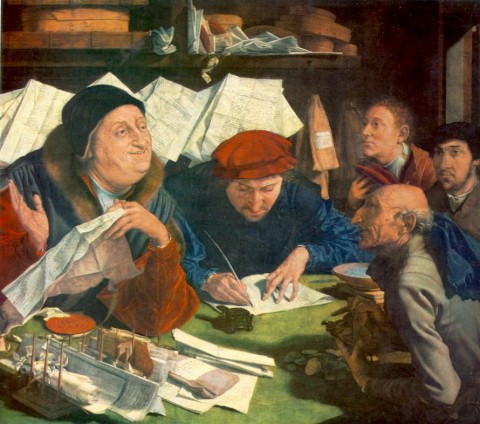 "We should let everybody vote, that's the way this is supposed to work," Obama said.
As Jed Lewison over at the Great Orange Satan put it:
Basically, Obama is saying that if there is no deal, if Boehner and McConnell don't allow a vote, he's going to go to town on them—that he's prepared to use the entire weight of the presidency to hold them accountable for being obstructionists. And don't forget: he's got the inauguration and the state of the union to follow through on his threat.
This is the guy I hoped would show up today.  And it appears he did.  Channeling (imperfectly) my inner Tim F. — if you are represented by a GOPster, give 'em a call.  Hell, if you're represented by friends of my reps, Barney Frank, John Kerry and (for this last little while) the Senator from Cosmopolitan, the Hon. Scott Brown, (Holy FSM, do I feel good taunting that man), then give the good folks a call too, just to buck them up.
Image:  Marinus van Reymerswale, The Tax Collector, 1542