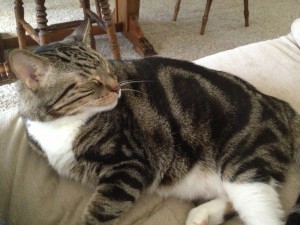 From commentor Madeleine:
When I took in Precious, he already had a good home. Due to some unfortunate circumstances that involved the other cat becoming aggressive, he needed a place to stay for about a month and a half. I returned Precious to his owner hoping that things had worked out. Unfortunately, a couple of months later, the situation hasn't improved and the owner decided that rehoming Precious would be the best option. Here's her post from Facebook:

I made a very difficult decision to re-home Precious. I tried everything I could possibly do as an owner, but there has not been progress. Leo opened the door and entered the room Precious was kept and viciously attacked poor Precious. Now, Precious is living in fear. I can't do this to my kitties anymore, for they deserve to be happy and safe. I decided to give up Precious because he's a sweetheart, indeed, the sweetest cats I've ever had, and I know he will be loved by his new family. If anyone is willing to take Precious before the rescue organization finds someone, please let me know. I am willing to pay for his insurance, food, and other supplies for the first year, and I will definitely volunteer to cat sit when you're away. This was never an easy decision, and my heart is broken.

Precious is now with the rescue organization I foster for. He's 7 years old, could stand to lose a bit more weight but otherwise in good health. While he was with me, he was extremely sweet and loving, and mellow. He loves hanging out with you as much as possible. I've attached several photos I took while he was with me, that shows how cute he can be, and can provide more from his owner as needed. (The pink belly is from over-grooming due to stress; his fur's grown back now.)

Hope the Balloon Juice community can help. It's a sad situation and I hope someone can make it better by giving Precious a new loving home.
If you are interested — or know someone who might be looking for a Precious of their own — email me at AnneLaurie @ verizon dot net (click on my name in the right-hand column) and I'll put you in touch with Madeleine.