Via MaddowBlog: FL Senator Marco Rubio told a huge whopper on Twitter: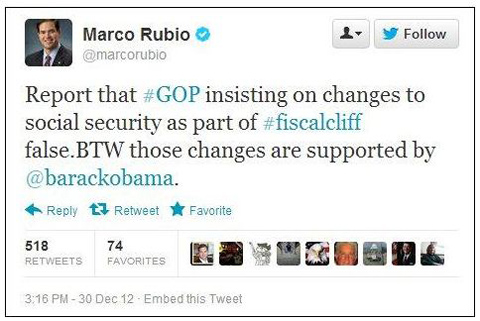 Rubio is marginally more intelligent than the average tea party loon, which is why, although he was happy to ride their Cap'n Crunch coattails to the US Senate, he is careful to keep them at arm's length. That may come in handy for him.
Rubio's party doesn't give a rat's ass about the deficit the tea party idiots are howling about; Rubio's party wants to continue looting the US Treasury on behalf of Mitt Romney's class. To do so, Rubio's party needs to destroy Social Security, Medicare, Medicaid and any other social program that implies by its existence that corporations and the plutocrats who run them have an obligation to the country.
Rubio doesn't have a problem with his party's objectives, but he does have an optics issue, in that he represents a state with a significant number of senior citizens who will be cheesed off if Rubio's party — led by the tea party nuts — continues to champion cuts in social programs to ensure that Mitt Romney pays less than 14% a year in taxes on his investment income.
There's no rational case Rubio can make to his constituents on why they should favor screwing themselves to shovel largess to multimillionaire dancing horse hobbyists. So Rubio will just try to bluff his way through this conundrum with big fat lies and hope it blows over before he's up for reelection.
Will people be dumb enough to fall for that? Could be! This is Florida, after all. But there's some evidence to suggest that there's a limit to the stupid.
[X-posted at
Rumproast
]