This really happened. One year, right after Christmas, my mom decided to drive herself, my little sister and me up to North Carolina to see snow. As native Floridians, my sister and I had never seen snow before. We complained bitterly about this fact, especially during the holidays when all the TV specials featured snowmen, sleigh rides, etc.
This was a very long time ago, back when people drove ugly green station wagons with fake wood paneling. Anyhoo, we had a little dog—a poodle mix of some sort. He was a kind of goldish color, so we named him Butterscotch. But we all called him Scotch.
We couldn't take Scotch with us since we were staying with dog-phobic relatives in North Carolina. So my mom asked her younger sister to housesit and watch after Scotch. Auntie agreed to do this for us and promised to take good care of our beloved pet: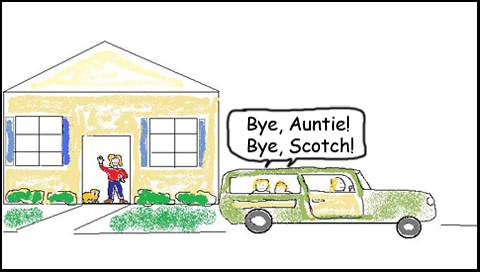 Poor Auntie had to spend New Year's Eve all by herself. However, my mom had generously given Auntie permission to raid the liquor cabinet. She polished off a few cocktails and then rang in the New Year watching Dick Clark on TV as she lounged in our recliner and finished an entire bottle of champagne: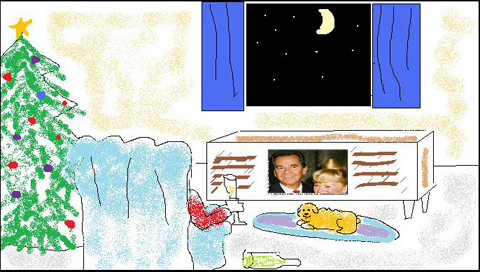 As the next morning dawned, Auntie blearily awoke and immediately noticed something was missing: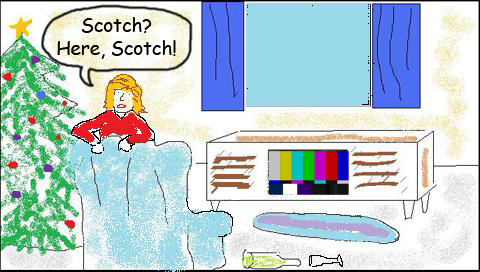 She looked all over the house, but she couldn't find him. Then she remembered that we had a doggie door in the back of the house. She thought maybe Scotch had let himself out. She looked out the window into the empty back yard. Then she noticed the hole in the fence: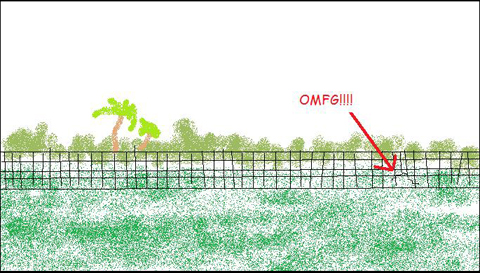 Now Auntie was in a full-fledged panic. She knew how much we loved our little dog. Horrifying scenes played through her mind—finding Scotch run over in the street and having to break the news to us. She ran out into the front yard and called Scotch repeatedly at the top of her voice: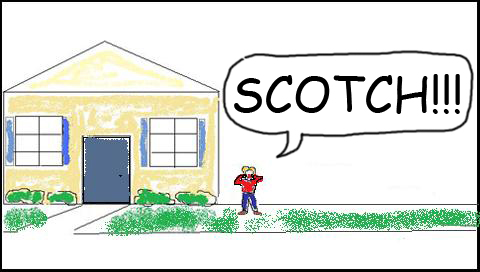 But he didn't come. She ran into the house and grabbed his doggie dish, thinking maybe if he saw it, he would come to her. She walked up and down the streets in our neighborhood, holding out a silver dish and screaming SCOTCH!!! The neighbors were not impressed: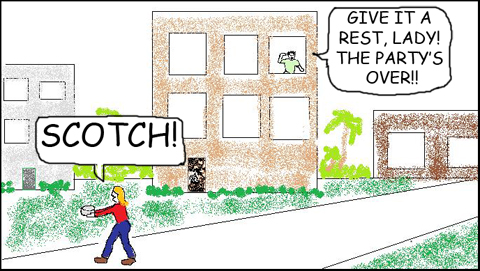 After an hour or so of this, with cranky, hung-over neighbors jeering at her from every window, Auntie walked back home, dejected. She wondered how on earth she was going to tell her beloved little nieces that she'd become intoxicated and misplaced their pet.
But when she got to our yard, Scotch was waiting: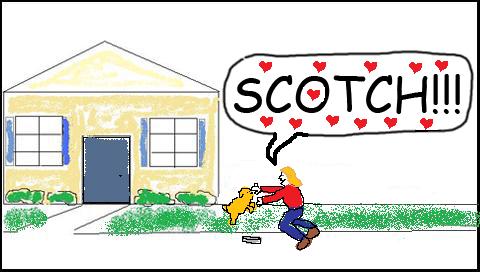 THE END
[Originally posted at
Rumproast
on 1/1/2011]