Via ThinkProgress: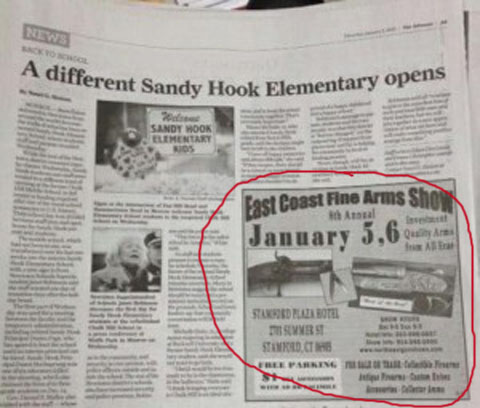 This unfortunate gun show ad placement isn't even the first one that has occurred next to a story about the Sandy Hook Elementary shooting.
I think John Cole was right when he said nothing would change until displaying an NRA sticker becomes as toxic as claiming KKK membership. But the NRA, even after Wayne LaPierre's psychotic presser, has a 54% approval rating in the US. I confess I do not get that. At all.
President Obama seems serious about wanting to address gun violence. But his wording in that interview with Dancing Dave was interesting. He said:
"We're not going to get this done unless the American people decide it's important and so this is not going to be a matter of me spending political capital. One of the things that you learn having now been in this office for four years. The old adage of Abraham Lincoln's, 'with public opinion there is nothing you can't do and without public opinion there is very little you can get done in this town.'"
I think most people do want to get military-style weapons and high-capacity magazines off the market. But already, less than a month after 26 people, including 20 first graders, were mowed down at school by a lunatic with a Bushmaster, it seems like the urgency to act is fading.
Maybe placement of gun show ads next to stories about gun atrocities means nothing more than careless editorial oversight. Or maybe guns are so embedded in our national psyche that more than half of us really don't see much of a difference between a gun and a car, except a need to closely regulate only the one with wheels.