I know that the general human failure to assess risks appropriately  is one of those things we dweebs kvetch about all the time (and certain kinds of insurance purveyors profit from), but what the hell.  Might as well blather on about it again.
Here's a graphic disinterred from Newsweek's gravefrom way back in 2010.
I'm really posting this as an addendum to Doug J's take on the lead/crime story.  He noted that Americans don't actually realize how much crime rates have dropped over the last couple of decades; the graphic below widens the net of things Americans (and people in general) have trouble accepting in our inevitable encounters with risk. I'm sure pointing this old story out once again will do as much good to the how-great-it-is-to-be-armed as young Kevin Bacon achieved in this scene.  Still, one must but try, so here it is: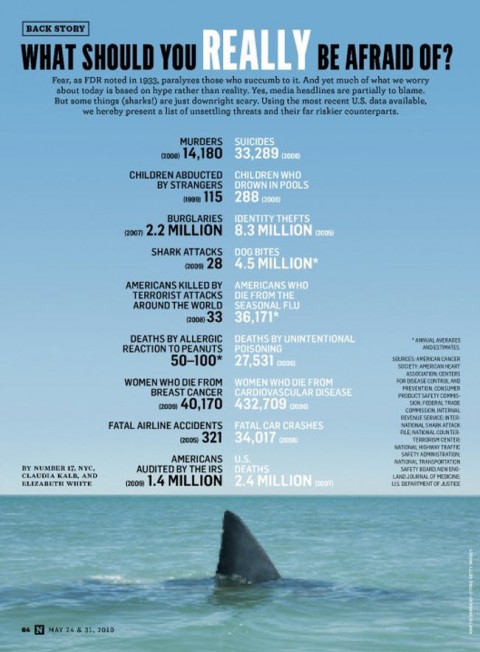 Just as a hint to where some posting thoughts are going — I was struck in reading both Kevin Drum's lead story and looking over the juxtapositions above by the number of times the appropriate response to the data comes from the world of public health.  That's hardly the glamour end of medicine or social policy, but considering the returns we've already got from things like clean water and childhood vaccination, public health becomes one way to thin k about essential medicine, social policy — even justice, and economic returns.
The dicey bit, of course, is that if you accept for the moment Drum's argument that lead in the environment drives all kinds of consequences over decades-long timescales, it becomes brutally obvious that the GOP approach is hopeless.  There's no government-free market solution to the problem.  Which means that there is no solution to be had from our current Republican party.  Which, I suppose, is why it's important to repeat what's been said so often before — the GOP has a fundamentally failed conception of government and society, and hence it's time as a political force must come to an end.  More to come on this theme.
And with that, it's the cocktail hour,* and — why not?! — time for an open thread.
*Satan's Whiskers? Really? Did folks drink that and live?¹
¹Which prompts the hideous and blasphemous pun: if Jesus were an organ donor would he have said "surely my liver redeemeth?"  OK.  I'm sorry.  I'll shut up now.