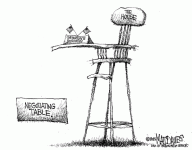 (Matt Davies via GoComics.com — click link for full-sized image)
.
Molly Ball at the Atlantic finds a retiring Republican whose defense of Boehner sounds suspiciously like certain arguments about… well, you decide:
Q: How about that insurrection — doesn't that prove that Boehner is a weak leader who can't control his caucus?

LaTourette: I think it's ridiculous. They should kick them all out of the Republican conference. The picture in Politico of a sitting Republican member of Congress on the floor with an iPad showing a screen with a whip count to deny the Republicans the speakership of the House is asinine. This is what I'm talking about: These guys are OK when it comes to ideology and dogma, but they don't have a clue how to participate in the legislative process.

I don't know what their objective is. If it was to deny the speakership to Boehner and hand it to Mrs. Pelosi, I don't know how their cause would have been furthered. If it's to force the vote to a second ballot to make some demands, well, who the hell do these people think they are? Twelve out of 233, and they're making demands? That's the dumbest thing I've ever heard.

Q: Is there any way for Boehner to assert some leadership now that he's been reelected and bring the insurgents into line?

LaTourette: He resisted, the entire last Congress, until the very end, the temptation to punish anybody. I sat on the steering committee, and there were cries from all parts of the conference: 'These guys are ruining everything!' He wouldn't chastise them or do anything until the recent mini-purge.

I don't think his inclination is to punish people. But I have to tell you, I don't know how he does it. You look at the very beginning of the last Congress, H.R. 1, the omnibus, there were hundreds of amendments from the stupid to the sublime. One was offered to defund the president's teleprompter… But Boehner's deal was, OK, go for it, let people participate. There was an expectation that, given the opportunity to improve the bill, they would then vote for the bill. But beginning with that bill there have been 20 to 50 members who will make adjustments to the bill that guarantee you're not going to get one Democrat to vote for it, and then they still vote against the bill themselves and deny Boehner the 218 votes he needs to bargain with…
That poor Mr Boehner, surrounded by crazy zealots he's just too nice a man to smack down! Apart from snickering about reaping what one has sown, what's on the agenda for the start of another week?