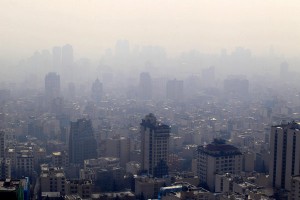 While the war party goes apeshit over the selection of Hagel for SecDef because of his alleged "weakness" towards Iran, here is a graphic reminder that we are already doing plenty to hurt the people of Iran with crippling sancions:
Already battered by international threats against their nation's nuclear program, sanctions and a broken economy, Iranians living here in the capital are now trying to cope with what has become an annual pollution peril: a yellowish haze that engulfs Tehran this time of year.

For nearly a week, officials here and in other large cities have been calling on residents to remain indoors or avoid downtown areas, saying that with air pollution at such high levels, venturing outside could be tantamount to "suicide," state radio reported Saturday.

On Sunday, government offices, schools, universities and banks reopened after the government had ordered them to shut down for five days to help ease the chronic pollution. Tehran's normally bustling streets were largely deserted.

Residents who dare to go outside cover their mouths and noses with scarves or surgical masks, but their eyes tear up and their throats sting from the mist of pollutants, which a report by the municipality of Tehran says is made up of a mixture of particles containing lead, sulfur dioxins and benzene.

***

But since 2010, when American sanctions on Iranian imports of refined gasoline began to bite, the situation has grown worse, according to the report by the municipality of Tehran.

Faced with possible fuel shortages, Iran surprised outsiders by quickly making up for the loss of imports by producing its own brew of gasoline. While the emergency fuel kept vehicles running, local experts warned that it was creating much more pollution.

A recently released report by Tehran's department of air quality control contained blank spaces where there should have been information about levels of benzene and lead — components of gasoline — in the capital's air. But the report did state that while Tehran experienced more than 300 "healthy days" in 2009, in 2011 there were fewer than 150.
Just because the war party hasn't been allowed to commence bombing doesn't mean we aren't killing a lot of innocent Iranians. And this is just one of the many horrible side effects of our policies- Iran is now also facing enormous medical shortages and food supply issues.