It's now confirmed:  Junior Seau suffered what appears to have been a football-assisted suicide:
The former N.F.L. linebacker Junior Seau had a degenerative brain disease linked to repeated head trauma when he committed suicide last spring, the National Institutes of Health said Thursday.

The findings were consistent with chronic traumatic encephalopathy [CTE], a degenerative brain disease widely connected to athletes who have absorbed frequent blows to the head, the N.I.H. said in a statement.
Via ESPN, here's a quick summary of what's becoming known about CTE and football.
CTE is a progressive disease associated with repeated head trauma. Although long known to occur in boxers, it was not discovered in football players until 2005. Researchers at Boston University recently confirmed 50 cases of CTE in former football players, including 33 who played in the NFL.
That gets at what's most troubling, to me at least, CTE has turned up again and again in the brains of NFL dead:
Since C.T.E. was diagnosed in the brain of the former Eagles defensive back Andre Waters after his suicide in 2006, the disease has been found in nearly every former player whose brain was examined posthumously. (C.T.E. can only be diagnosed posthumously.)

Researchers at Boston University, who pioneered the study of C.T.E., have found it in 18 of the 19 brains of former N.F.L. players they have examined.
ETA: Here's the Wikipedia summary of the symptoms and progression of the disease:
Diagnosis of CTE is frequently ascertained from patients' medical histories, i.e. past traumatic brain injuries, and secondary symptoms, including: disorientation, confusion, vertigo, headaches, poor judgment, overt dementia, slowed muscular movements, staggered gait, impeded speech, tremors and deafness.

Individuals suffering from CTE may also progress through four stages of the disease; The first stage is characterized by its disturbances and psychotic symptoms. In the second stage of the disease the patient may exhibit erratic behavior, memory loss, and the initial symptoms of Parkinson's disease, such as difficulty with balance and gait.  The final stage is dementia as well as symptoms related to Parkinson's disease.
I really like watching football.  I've dedicated a lot of Sundays to the pleasure.  I've got a friend down the block in my new neighborhood with whom I've become  much more rapidly  than I usually do with new acquaintances, a bond formed over our regular sessions in front of his TV and scotch bottle.  Last season we caught just about every Patriots game together.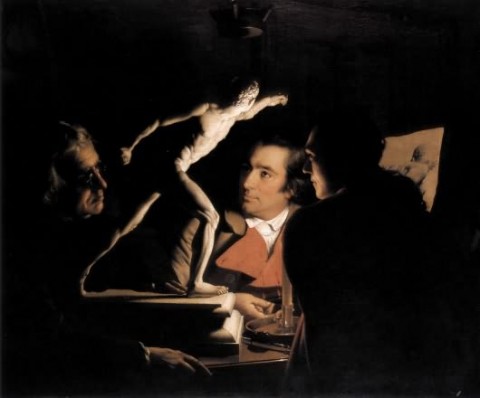 This year not so much.  Partly, real life is to blame — mostly the desire to spend more time with a son on the verge of teenager-hood and the accompanying (and looming) irrelevance of Dad.  But really, I'm finding it harder and harder to recover my eagerness for the sport given this knowledge:  as I watch, say, this Sunday's Patriots-Houston playoff, I'll take my enjoyment from a game that — played correctly, within the rules — is doing an increment of what will add up to grievous harm for some of the people on screen, right in front of me.
A little context.  I love great writing more than I love any sport, and I've long thought some of the best non-fiction I've ever read comes in the form of A. J. Liebling's boxing essays.  After I read Liebling — way back in the early eighties — I started watching some fights.  At its best, it's a completely consuming spectacle, full of all that sport is supposed to provide, stories of courage, skill, smarts, human weakness, pure athletic astonishment, the lot.  But I couldn't stick with it. This was before Muhammad Ali's terrible decline became obvious, but it doesn't take such a high profile case to make the point.  They coined the phrase "punch drunk" for a reason, and that reason is obvious to anyone who watches more than a bout or two.
Boxing's raw, obvious, stripped to the skin.  The point is to render your opponent unconscious, to so rattle his (and now her) brain that he or she falls down. and body he or she falls down or just can't keep up. (fix to reflect this on-point comment)
Football is, of course, not quite so insistent on damage; the hits are in the service of the goal of advancing or preventing the movement of the ball.   But still, stories like Seau's make clear the risks that flow from the game:   especially at the level where everyone is so ferociously big and strong, there's a quite possibly large fraction of players who will suffer as Seau did — not to the point of suicide, necessarily, but to some form of damage.
Ta-Nehisi Coates wrote about this a few days ago, talking about his decision to walk away from watching the NFL, reached before this last season.  I didn't come to his conclusion this last autumn; I didn't give up on the game altogether.  But the moral and/or emotional logic that moved Ta-Nehisi  is getting harder and harder for me to ignore.  I'm just not sure how much longer I can keep watching.  Might not make it through the weekend.
A last note:  Here's Tyler Seau on his father's death (via TNC.)
"It makes me realize that he wasn't invincible, because I always thought of him as being that guy. Like a lot of sons do when they look up to their dad. You know? You try to be like that man in your life. You try to mimic the things that he does. Play the game the way he did. Work the way he did. And, you know, now you look at it in a little bit different view."

Tyler added: "Is it worth it? I'm not sure. But it's not worth it for me to not have a dad. So to me it's not worth it."
To get unreasonably personal with you: I lost my dad to an accident when I was 10.  I learned a lot from dealing with the consequences of that event.  I can't tell you how much I'd rather have foregone that education.  You know what I'm saying?
Image:  Joseph Wright of Derby, Three Persons Viewing the Gladiator by Candlelight, 1765