Further to DougJ's catch of this morning:  last night I actually found myself reading (why, oh why, dear FSM?) the McArdle post in question, a bit of fappery in which she paraded her above-the-fray disdain for the idea that the Obama administration might take action to clean up a mess the Republican rump plans to deposit on his lawn.  (No linky 'cause I'm not in the business of giving any hint of value to McArdle's employers/enablers.)
It's really a sad effort, in which McArdle attempts to compose a ~1,600 word piece on the failure of governance implied by a discussion of a platinum coin on the US balance sheet without seriously implicating anyone other than President Obama.  She does make a couple of nods in the direction of "both sides do it" faux-balance, chiding the Republicans for their role in the last debt-ceiling debacle and noting that the GOP side of the aisle seems even less prepared for the consequences of actually blocking the measure this time around.
But those are head fakes.  She reserves the full blast of McArdle scorn (as always, queue cue Denis Healey's "savaged by a dead sheep" line here) for Obama in particular and the Democrats in general (whodathunkit!). A sample complaint: Obama's election campaign went pitiably small (an argument that relies on ignoring most of what Obama discussed on the trail), and that he and his party simply ignore the "fact" of federal over-spending.
I'm not going to do my usual obsessive 4,000 word fisk on all the failings of fact and logic that permeate this, as so many of McArdle's effusions.  Life is too short; I'm on (self-imposed) deadline; and frankly, the slow erosion of McArdle's career makes the task less pressing, at least to me.  The Daily Beast ain't The Atlantic, and you can see the impact the difference in audience makes.  I actually waded into the comment thread on the post in question (the shallow end — didn't have the stomach or the time for the deep dive) and there were plenty there heading for Red State territory.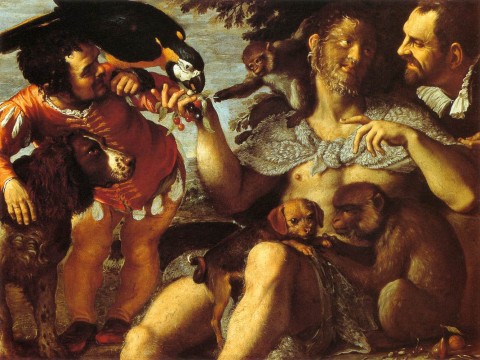 I've no doubt that McArdle is unlikely to want for a reasonably well-paying gig for the indefinite future; she's pretty well situated on the Wingnut Welfare railroad.  But there is a big difference between those who intone their harmonies inside the Wurlitzer and those who play out a bit, and it seems to me that she's heading the wrong way on that particular arc.  Could be wrong, of course, and constant vigilance and all that.  But really, there are bigger fish to fry (looking at you, BoBo, et al.).
So, in the interest of everyone's time, let me here just take note of the fact that McArdle's calculator is performing as well as ever.  Her post's coffee-spray-on-the-screen moment came on reading this gem:
For a while, Democrats could pride themselves on being the reasonable ones. Now they, too, are choosing words over math.  "We don't have a spending problem," President Obama apparently blithely told the Speaker of the House.  Which is technically true . . . if we're willing to raise the government's tax take to north of 50% of Gross Domestic Product. [ellipsis in the original]
Err.
Just to dot the "i"s: 2011 GDP?
$14,991,300,000,000.  Call it $15 trillion. (via the World Bank.)
$3,598,000,000,000.  Call it $3.6 trillion. (Via the CBO.)
Now, I don't know about y'all, but I'm not sure I even need to pull out my slide rule to see that 50% of $15 trillion is $7.5 trillion.  And I can probably get by without digging up a working model of a Curta to confirm that $3.6<$7.5.
But perhaps I should do the calculation anyway.  Using the rounded numbers, it seems that federal spending in fiscal 2011 amounted to ~ 24% of GDP.  Or, for those of you keeping score, right in the range  Bernard discussed yesterday.
All of which is to speak the obvious; McArdle's number is simply bullshit.
I actually have no idea what she was thinking there; it really is one of the least well hidden secrets in US budget discussions that the feds spend a bit under one quarter of GDP.  That's a number that's been out there a lot, not least in the context of not-exactly-obscure proposals like the Ryan "Path to Prosperity"* budget plan, which called for long-term government spending to fall to 19% of GDP.
Just to belabor the point:  getting this proportion scaled right is not rocket science — it's just part of the assumed knowledge in discussions of US fiscal stuff.  Which is to say that anyone can, of course, screw up and type a number in error.  But then, if you're numerate at all, you get that tingle that tells you there's something just off — and you fix it.
Which leaves me with the usual McArdle conundrum:  is she simply so tone-deaf quantitatively that she really didn't catch the absurdity of the claim?  Or is she so reckless a polemicist that she did, and didn't care?
One last thought.  Back when McArdle was securely perched at The Atlantic, I often ended these rants by pointing out that her work colored the output of the whole site.  Sometimes I called out the writers I did (and do) admire there to sharpen the jab.  The same obtains today:  McArdle's work is a measure of The Daily Beast.  If they choose to publish her, they own whatever good she may produce — and all the bad, with every bit of reputational and credibility damage that may follow to the site and everyone else who takes a byline there. In which context, whatever your feelings about Andrew Sullivan, I'll say this:  he's not stupid about his career.  It's not (or not just) the manner of his leaving Tina's playpen; it's the fact of his abandon-ship that, to me, speaks volumes.
*Doublespeak alert
Image:  Agostino Carracci, Hairy Harry, Mad Peter and Tiny Amon, between 1598 and 1600.  I have used this before, but it really seems to fit here.