No, not the massive fail that is today's GOP.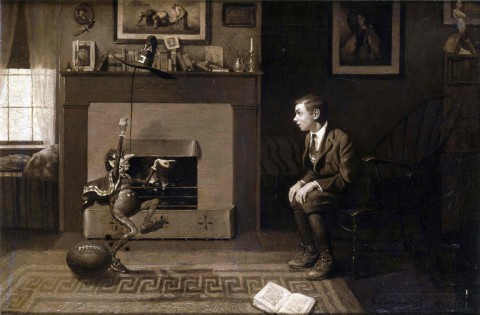 Nope.  Try penguin shit (h/t  IO9):
Until last month, this group of 9,000 Emperor penguins had never seen a human being before. And no human knew about their existence either — until a satellite picked up images of their poop from space. That's right. These penguins are so populous that their waste is visible from orbit. Though they were discovered in 2009, humans were not able to visit them in person until December 2012.
Click on the IO9 link above for more — and pictures that make you go "SQUEEEEE!"
Oh — and if this doesn't rate as a true Balloon Juice open thread, I don't know what does.
Update:  More from The Guardian.  Poop photo doubly credited to AP and NASA here.
Image: Norman Rockwell, The Magic Foot-ball, 'I thought you were wrong,' he said in triumph. 'You said it was nine! Stupid!' 1914.