Via TPM, I was sent to this website, [fair warning:  crazy people on the other end of that link] to find this image: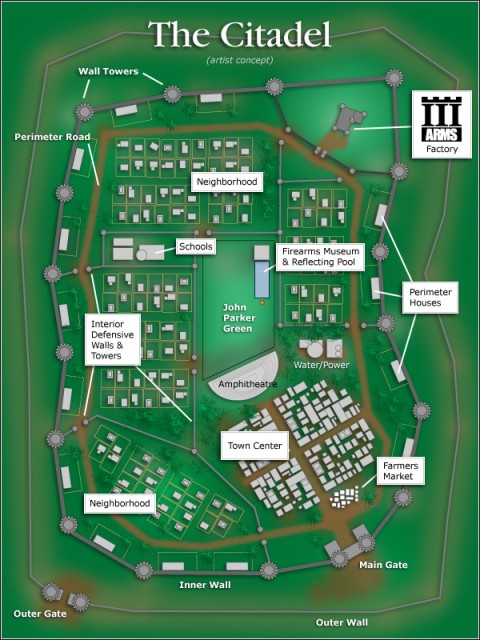 We've already discussed the project depicted here — several times, in fact.  It's the Citadel — that Wingnut fantasy of a Dungeons-and-Dragons-and-Bushmasters retreat in Idaho where no liberals need apply.
All fine — if it were up to me, I'd encourage every gun nut to retreat to their bastions — whether up in the Idaho panhandle, where generations of actually competent folks have found it so easy to construct self-sustaining livelihoods …or in GlennBeckistan, that to-be self-sustaining (sic!) entertainment and intellectual hub to be constructed somewhere in Texas.
Go! Here's your hat; what's your hurry?
Seriously.  If they would only do the rest of us the favor of retreating to their own private Somali-o's, our politics and our societies would be that much saner and safer.
But we knew that already, and that's not what caught my eye.
Nah.
Here's the story:  As I'd just opened the picture above, my son happened to come into my study.  He asked what I was looking at — it seemed to him a sketch from one of the medieval combat games he likes and knows I don't, and he wondered what would possess me to bother with such a thing.
I told him that, no, this wasn't history or fantasy,* but rather somebody's actual idea of someplace that would serve to protect them from an overweening federal government.  He just looked at it pityingly, wondering, and he asked me, "have these folks never heard of cannon?"
And damn if that hadn't been literally my first thought on reading the caption "Interior Defensive Walls & Towers."  I mean, artillery much?
The stupid.  It burns. With the white-hot-heat-of-a-thousand-suns.
*Well, it is.  But not that kind.