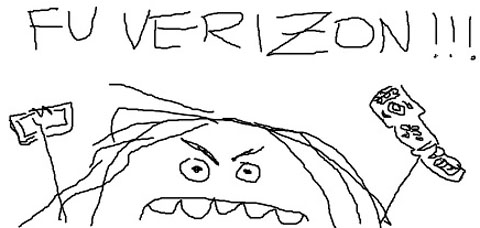 Wireless carriers are blood-sucking leeches run by amoral pricks whose unfathomable greed and utter disregard for fair dealing would make Bernie Madoff ashamed enough to seek species reassignment surgery. My husband and I recently fell prey to a scam perpetrated by our long-term mobile, landline, TV and Internet provider, Verizon.
We innocently strolled into a local Verizon retail outlet a few months ago to see about upgrading my husband's old clamshell-style crap-phone so he could stop writing notes on paper, photographing them and sending that in lieu of text messages. A more credulous pair of bumpkins has never been so effectively swindled by such a brazen pack of bald-faced liars.
The fecking feckers sold us a packet of magic beans: a bundle that would supposedly result in a lower overall monthly payment for all services while upgrading hubby's crap-phone to a smartphone, expanding our channel line-up and improving the quality of our landline service. (That last part smarts especially in retrospect since we had intended to get rid of the landline, which we rarely use.)
But no, the lying Verizon motherfuckers told us: With THESE special beans, the landline is BETTER than free! It exudes a magickal "savings dust" that reduces your overall bill, each and every month! Plus, the new and improved landline service comes with a snazzy new transmitter base with periwinkle-colored ambient lighting and can even serve as a marital aid / can opener / wine decanter!
We idiotically signed on, and when the incomprehensibly Byzantine combined bills began to arrive, we found that — quelle surprise! — the deal was not as advertised! When I called to investigate, I was eventually made to understand that through a combination of "line access" charges, service fees, etc., our bill was going to be around $30 more a month than it had been.
Moreover, I was given to understand that not only had we extended my husband's phone contract by two years (which we knew), we were now locked into two-year contracts for the landline, TV and Internet service too, all of which had previously been at-will. The bottom line is, if we want to dump Verizon right now, it'll cost us nearly $800.
I've raised holy hell across the Verizon customer service spectrum, calling, chatting, emailing and even snail-mailing the bastards to request that they kindly remove their dicks from our ass. To no avail.
But you know what? I can get through this. I endured the two-term governorship of Jeb Bush and the presidency of George W. Bush, and dog willing, I will outlast the vile governorship of Rick Scott, so I know a little something about waiting out evil fucks. I'll wait out Verizon too, and once I'm shut of them, I'm hoping to arrange it so that they never see another nickel from the Cracker household. Ever. That's the only kind thing about time: Eventually, this too shall pass.
My question is, of all the hucksterish-prick wireless carriers out there, which one have y'all found to be the least rapacious? Also too, is there such a thing as satellite TV and Internet service? And lastly, please consider this an open thread / wireless carrier primal scream therapy center.