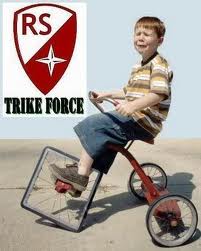 Erick Erickson, yesterday:
We have too many outrage pimps on both sides of the aisle whipping the respective bases into a frenzy and fury against the other side. I don't have enough time or energy to be outraged about it all. There are things to be outraged by, but not everything, and certainly not with full energy dedicated to every perceived slight and grievance.

What I am finding is that among conservatives there is too much outrage, piss, and vinegar. It makes our ideas less effective. We have become humorless, angry opponents of the President instead of happy warriors selling better ideas. We are not even selling ideas.
You know what conservatives are selling? Let's see what Erick has had for sale since Obama's reign of socialist Muslim Kenyan terror began:
We've had several missions for the RedState Army of Activists. You probably haven't noticed as we've primarily directed them to individual states.

This should be one for an individual state, but we need to take this nationwide and make it a national rebuke.

Meet Kent Williams. He is allegedly a Republican in Tennessee. The GOP took the State House in Tennessee and rallied to one of their own to be Speaker.

Williams had other plans. He made a deal with the Democrats, betrayed the Republicans, and got himself elected Speaker. He then put a Democrat in the number two spot.

On opening day of the legislature the outgoing Democrat Speaker of the House stood behind Williams whispering directions in his ears.

It's clear he's a weak mind and will be putty in the hands of the Democrats.

Here's the assignment:

Kent Williams' address is XXX, XXX XXX XXXX (redaction mine, not Erickson's of course)

Go here and send Kent Williams some silly putty. Let's put in his hands a pretty accurate representation of what he is.
That's not all:
Olympia Snowe has sold out the country. Having been banished to our world after Aslan chased her out of Narnia, Snowe is intent on corrupting this place too.

So we should melt her.

What melts snow? Rock salt.

I'm going to ship this 5 pound bag of rock salt to her office in Maine. It's only $3.00. You should join me.

It is a visible demonstration of our contempt for her. First she votes for the stimulus. Now this.

It's time to melt Snowe. ORDER YOUR BAG HERE.
Let's give it up for Red State. They know a goat fucking child molester outrage pimp when they see one.