I attended Tampa's pirate festival on Saturday. I'm feeling better now. Truth is, the event seemed subdued compared to previous years' invasions. Here's a shot of the fake pirate ship preparing to land at the Convention Center and disgorge dozens of tipsy councilmen, heart surgeons and bankers dressed in swashbuckler garb: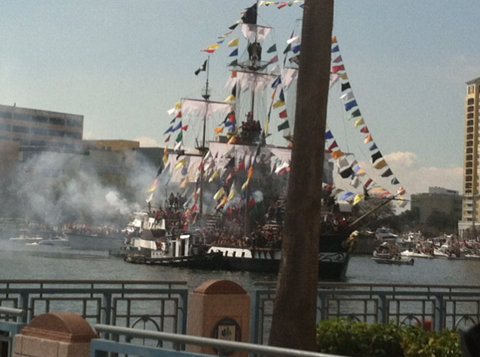 In past years, that channel would be so clogged with boats you could walk from the Convention Center to Tampa General without getting your feet wet. The lowish turnout couldn't have been the weather, which was lovely.
It seemed to me the Convention Center staff had aired the place out sufficiently to remove the loser stench from the GOP Convention, but maybe it lingers in a way that is only detectable to Republicans. Oh well. Shorter lines at the loo, so it's all good.
Please feel free to discuss whatever.