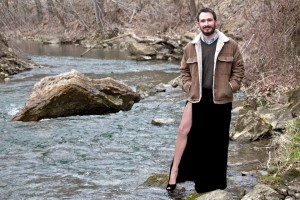 Tonight's live chat is featuring author Wiley Cash, whose first book, A Land More Kind Than Home
, was just released in paperback.
Wiley has been a friend of mine (and neighbor) for several years, and I am really excited about tonight's discussion. Feel free to ask anything. For more information on Wiley, please visit his website.
For the record, we photoshopped that picture above a while back because he had the Angelina Jolie leg thrust pose. Little did I know that it would rocket to the top of google images and all his work friends would see it and laugh hysterically. Had I known that, I would have done it earlier.