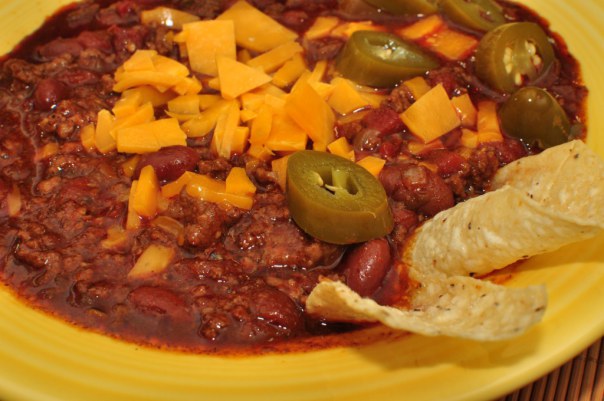 From our Food Goddess, TaMara:
So I hear there is some kind of football game happening during a Beyoncé concert on Sunday. Last year we tackled a bunch of Super Bowl foods that started with nachos and ended at pizza (you can find them here).

I didn't see how we could top that, so I was at loss this year what to post pre-game. I finally settled on chili. I figured we could find plenty to argue with there, since I think just about everyone has a favorite chili recipe and will throw down to defend it. So have at it. What's your favorite chili recipe? What are you noshing on at the big game?

Personally, I'll be having tea and crumpets with the Dowager Countess. "Scones anyone?" (said with a very prim British accent).

Here are some of the chili recipes that we've tackled over the years:

First, from the oldest of my brothers: Quick and Easy Chili (recipe here)

JeffreyW's Chorizo Chili (recipe here)

And tonight's featured recipe from JeffreyW:

Beer Chili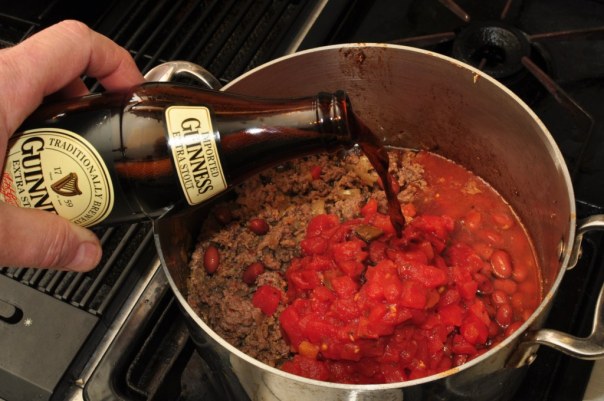 I've used beer in recipes before but I don't remember using any in chili before today. A quick search turned up plenty of evidence of prior art so there won't be any recipe patents applied for today, alas. Aside from the bottle of stout in it there isn't much to say about this recipe: 1 lb of ground beef, 1/2 lb of my homemade chorizo, 1 can of tomato bits with green chilies, 1 can of chili beans, a diced onion, 5 minced cloves of garlic, a fair amount of chili powder, a sprinkle of red pepper flakes, and the bottle of beer.

Cook the onion in a bit of oil, add the garlic and the meat and brown everything well. Remove the fat and then add the rest of the ingredients, bring to a boil, then simmer for at least an hour. Serve with your favorite garnishes.

Mrs J and I agree on the cheddar cheese, she takes a pass on the peppers and prefers the nacho chips crumbled and stirred in. I like to scoop the chili with the chips like it is a big bowl of dip. This batch of nacho chips are just a bit too thin for that, they break too easily. Nice flavor, though. I just wish I hadn't purchased the jumbo case lot of them. LOL
One last note from TaMara: For the foreseeable future, recipe exchange will be on Fridays. See you next week.