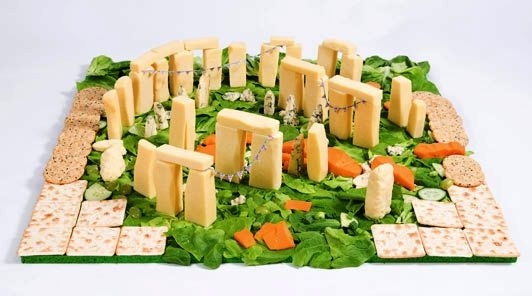 I thought that "Fifty Shades of Glock"* gun-porn piece by Walter Kirn that Mistermix posted for our derision yesterday was the dumbest thing I'd read on the gun issue this week.
But then I saw this, which asserts that asking gun buyers to undergo a background check is akin to encouraging cops to pull random brown people over to check their immigration status. If stupid burns, that essay is a veritable supernova of stupid.
I haven't had a cigarette in eight months as of today. Go me!
Any big plans for the upcoming weekend? What are you making for the Super Bowl, and who are you rooting for?
I might attempt Cheesehenge (as pictured above), and I can't decide whom to root for as I don't care for either team. I was going to root against the Ravens because I despise Ray Lewis, but then that homophobic jackass on the Niners had to open his pie hole…
PS: Missed the Wiley Cash event yesterday because CoveritLive sucks on an iPhone, but it looks like y'all asked my questions anyway. Well done!
* H/T: Baud