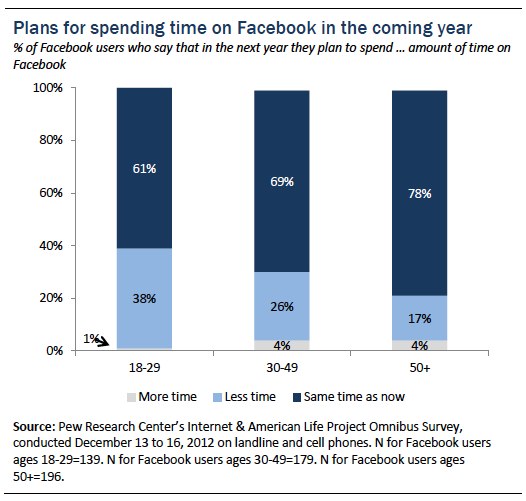 Pew has taken a look at the habits of Facebook users and this graph, which shows that well over 1/3 of the 18-29 demographic plan to spend less time on Facebook in the coming year, is consistent with what I see with my daughter and her teenage friends. As soon as they all got iPhones, Facebook usage declined. There's a lot of use of private Twitter feeds, Snapchat, Instagram, Pinterest and Tumblr. And for one-to-one messaging, texting/iMessage still rules.
I don't have a grand unified theory of why Facebook is no longer as popular as it once was with this demographic, but here are a couple of observations: Twitter privacy is easier to understand and control than Facebook's, so if you want to broadcast the details of what you're doing, and you don't want "creepers" and parents to see, Twitter's a better choice. If you want to send a dicey photo or video to someone, Snapchat erases it after a few seconds. Facebook keeps everything forever, or so it seems. Instagram's photo sharing is better than Facebook's, Pinterest organizes around interests rather than friendships (Facebook makes it hard to do that), and Grandma doesn't use Tumblr, so she won't see teenage emo posts there.
If you look at the conglomeration of socially connected apps on teenager's iPhones, you'll find that, together, they do everything Facebook does, but, individually, they do it better or more privately. This is Facebook's big challenge. The older generation using it is a bit like AOL users in the 90's: AOLers settled for a simplified version of the Internet because they didn't have the time or energy to spend figuring out the real thing. Similarly, once Grandma has learned to Facebook, she's done with social networking. Today's teenagers are the first group for whom social networking is not a new part of life, so they're just getting started.
Also, too: I haven't seen a single non-iPhone smartphone in the hands of a teenage girl in my part of the world. I've seen boys with Android phones, but for the girls, there's no other kind of smartphone.