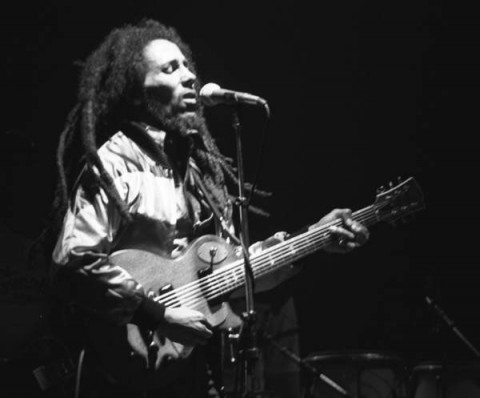 Lots of people die young, as the news daily tells us (and as many here, myself included, grasp from deep personal knowledge.)
The deaths of strangers don't strike home in the same way as those of people close to us, of course.  There's a kind of disembodied quality to any sorrow, a regret at the abstraction of lost years, lost human experience.  But I feel a barb that lodges within a particular vein of sadness — or perhaps better, regret — when a musician's voice goes dumb too soon.
The reason is pretty obvious.  Mark Knopfler (happily very much still with us) nailed it, I think (about 8:50 in): "…songs are milestones for people in their lives; they use them. They use them to live with."
I've been moved by lots of songs, singers, players.  But I can think of few — none really — who combined the power of music itself with the rush that came with utter, marvelous strangeness that I encountered late in high school when first heard this.
That was (I think — it's been a while) Bob Marley's first big hit to chart beyond Jamaica.  I know that it is almost a cliche now — and there are other songs in his catalogue that probably move me more.  But try to imagine hearing that for the first time after a steady diet of (often great) straight rock and roll.  Skull shrapnel ain't in it; it truly blew one's mind.
Marley's suffered a fairly common post-mortem fate for iconic figures:  he's been mythologized out of recognition.  Gone is the radical, redemptive, political, demanding man who explained why he made it on stage for a concert in support of Michael Manley two days after being shot, saying, "The people who are trying to make this world worse aren't taking a day off. How can I?"  Now, too often, Marley has become an almost generic figure of benevolence, which is too bad, because I don't believe he ever lost the sense that there is something of a Manichaean struggle to be waged against those who (still) act to make this world worse.
But this is certain: Marley broke through any niche ceiling to become the first (that I can think of) truly global musical voice to come from what used to be called the Third World.  For that alone, he has had more to do in shaping the landmarks of people's lives, to give them songs — and a sense of the world within those songs — that we use to live our lives.  Forty years or so on from his breakout, we've grown so much richer in our musical lives, sounds from anywhere weaving through our culture, our headphones, one pair of ears at a time.  I won't go so far as to say that Bob Marley makes Barack Obama possible — but the demographic shift that so troubles the latter-day Republican Party is not simply political.  It's incomprehensible, I think, to many who came of age in the last twenty or thirty years to know how transformative it was to hear other voices — and not simply as a novelty, or some in-group marker of cool found in a few basements in college towns.  Marley was HUGE from the 70s, and stayed so after his death.
Now his music is the stuff of the shrinking pool of oldies radio — except of course, that his influence and that of his 60s and 70s reggae comrades shoots through our current soundscape.
But even so — it's hard not to wonder what he could have sung and said if he had managed to beat the cancer that got him in 1981, when he was all of thirty six years old.
Bob Marley would have been sixty eight yesterday.
Bonus full concert (complete w. a fifteen minute bonus opening by Dick Gregory that truly captures some of the deep strangeness of the late 1970s. Trust me; it was far wierder than I can hold in mind most times. This concert, btw, at Harvard Stadium (!) occurred while I was still in college — which means that I could have been there. That's a regret I've nurtured since the day-of):