That would be the motto for the Los Angeles County Sheriff's Department.  And it contains your full USDA recommended level of irony for the day.
Via BoingBoing's Xeni Jardin, we learn that the murder (so far) of three people by an ex-cop, which sparked a remarkable outbreak of shooting of folks accused of DWDBT (Driving While Driving A Blue Truck) is not the only news to come out of LA law enforcement this week. Get your heads around this:
Seven Los Angeles County sheriff's deputies have been notified that the department intends to fire them for belonging to a secret law enforcement clique that allegedly celebrated shootings and branded its members with matching tattoos, officials said.

The Times reported last year about the existence of the clique, dubbed the Jump Out Boys, and the discovery of a pamphlet that described the group's creed, which required aggressive policing and awarded tattoo modifications for police shootings.
Investigators did not find that the seven had actually, you know, killed anyone with their arquebuses whilst on night patrol…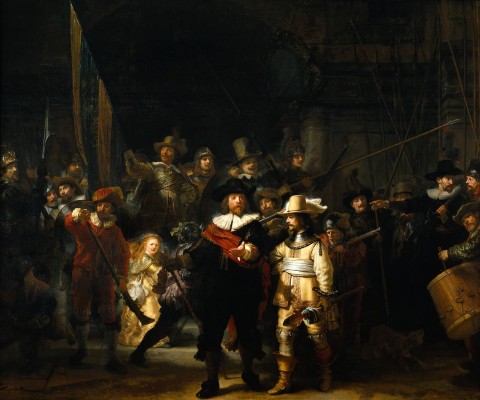 …but I can't say anyone who might be on the receiving end of "aggressive policing" would feel much comfort in that:
One member, who spoke to The Times and requested anonymity, said the group promoted only hard work and bravery. He dismissed concerns about the group's tattoo, noting that deputies throughout the department get matching tattoos. He said there was nothing sinister about their creed or conduct. The deputy, who was notified of the department's intent to terminate him, read The Times several passages from the pamphlet, which he said supported proactive policing.

"We are alpha dogs who think and act like the wolf, but never become the wolf," one passage stated, comparing criminals to wolves. Another passage stated, "We are not afraid to get our hands dirty without any disgrace, dishonor or hesitation… sometimes (members) need to do the things they don't want to in order to get where they want to be."

…"We do not glorify shootings," he continued. "What we do is commend and honor the shootings. I have to remember them because it can happen any time, any day. I don't want to forget them because I'm glad I'm alive."
The only good news out of this is that the Sherrif's department does seem serious enough to actually fire these guys.  I suppose you could file that impulse under "damage control," but hell, I'll take it.
I'll add one more thing:   being a cop is a terrifically hard job.  It's made harder by the unbelievable availability of firearms for any bad guy (or gal) to wield — which is why so many in law enforcement favor gun control.
But that job becomes harder, IMHO, not easier, the more you militarize the civilian act of policing.  Such militarization doesn't merely include weaponization, tactics and all that; it's a culture too.  And cultures can go very bad.
So I'm not calling down snark and thunder on everyone who does law enforcement.  I am saying that as in so much else humans undertake, being a good cop, or department is a matter of eternal vigilance and all that.
Image: Rembrandt van Rijn, The Company of Frans Banning Cocq and Willem van Ruytenburch, known as the 'Night Watch', 1642