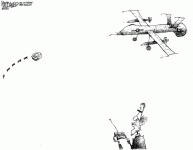 (Matt Davies via GoComics.com – click link for full-sized image)
Because I was raised by wolves Celts, I cannot resist taking an unholy glee in the confusion of my enemies. Roy Edroso at the Village Voice admires the deftness with with the Obama administration swatted the Skeeters:
We have observed once or twice before that, at this point, President Obama seems to be trolling his opposition. The thickness with which he laid on the contraception issues at last year's Democratic Convention, for example, seemed ill-advised until the general conservative flip-out (and Obama's reelection) made it look brilliant.

The recent gun control furor seems to be similarly engineered. Whenever Obama makes a mild move in the anti-gun direction — like his nothingburger executive actions a few weeks back — the brethren go berserk, and ordinary Americans looking at the two sides are encouraged to think Obama's isn't the crazy one.

Last week, damned if Obama didn't do it again, with first an assertion and then photographic evidence that he had been skeet-shooting at Camp David…
And while we're discussing Repub perversity in all its infinite variety, here's Dave Weigel at Slate:
…[L]et's kick Dick Morris while he's down. He wasn't merely an inaccurate pundit. He was a con artist. He used his Fox News hits and Hill columns (he still has the columns!) to pitch candidates that he would concurrently schlep to people who signed up on his mailing list. Hey, did you listen to me on TV and hear about my website? Great! Donate to the Super PAC for America, which will plow money back into list-building and completely fail to elect any of these candidates.

Fox News elevated Morris from a pundit to a Republican activist, a speaker at Tea Party rallies and Republican events. Eleven months ago—i.e., with plenty of time to go before the election—Morris spoke at a Lake County, Florida GOP meeting and tried to auction off a visit to the Fox News studios. Fox News suspended him, briefly, but the scandal should have been even more embarrassing than that. Morris was presenting his employer not as a news organization, but as a helpful part of the struggle. At the same time, he was undermining the news organization's utility to conservatives by using it as a forum to profitably, baselessly promise that everything was gonna work out.
The whole party seems to be reduced to "who's grifting who"…